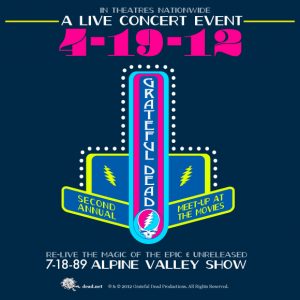 Grateful Dead estrena el 19 de abril, dentro se su ciclo anual «Grateful Dead Meet-Up At The Movies», la película del concierto que ofrecieron el 17 de julio de 1989 en el Alpine Valley Music Theatre de Wisconsin.
El filme tiene una duración de dos horas y media, y ya fue publicado en VHS y Laserdisc en 1997, y en DVD en 1999, con el título «Downhill from Here».
The Grateful Dead is back in select movie theaters nationwide for only one night on Thursday, April 19 at 7:00PM (local time) for the second annual Grateful Dead Meet-Up At The Movies presented by Fathom. This year we've reached deep into the Grateful Dead vault to present the unreleased iconic concert captured at Alpine Valley Music Theatre on July 18, 1989.