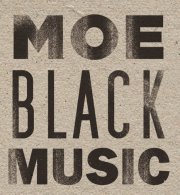 La 5ª Edición del MOE Black Festival, el festival dedicado a la música negra que se celebra en Madrid, está siendo espectacular desde su comienzo el 10 de marzo de 2012.
La programación de este año viene siendo la siguiente:
10 de marzo (El Sol), The California Honeydrops, sonidos New Orleans
15 de marzo (Joy Eslava), Lucky Peterson, blues
23 de marzo (Joy Eslava), Breakestra, funk, y Jimmy Burns, blues
24 de marzo (Sala Penélope), Speak Low, funk, y The Apples, funk
31 de marzo (Sala El Sol), The New Mastersounds, funk
A los que hay que añadir «Juan Bourbon, Juan Scotch & Juan Beer«, Red House, Watch Out, Blue Perro y Watch Out.
La presentación del festival se realizó el 23 de febrero con Primital, el Spike Jones español.
Fifth Edition of MOE Black Festival in Madrid dedicated to Black Music, beginning with The California Honeydrops, Lucky Peterson, Jimmy Burns, Breakestra, The Apples, The New Mastersounds, Speak Low, Primitial and much more. March 23rd to March 31st of 2012.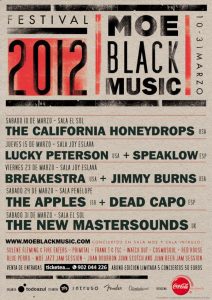 The California Honeydrops
Lucky Peterson
Jimmy Burns
The New Mastersounds
Speak Low
The Apples
Breakestra
Primital