Bruce Springsteen dedicó ayer 13 de mayo en Sevilla durante su concierto en El Estadio de la Cartuja, palabras de ánimo a esos millones de desempleados, desahuciados y españoles desilusionados que engrosamos las listas del paro.
Bruce Springsteen no paró de agitar a sus fans desde el comienzo de su su concierto en Sevilla con un estadio al 75% de su capacidad.
«The Boss» tras abrir su concierto con «Badlands», canción que viene siendo la de apertura durante todasu gira «Wrecking Ball Tour«, » se desmarcaba en la novena canción del setlist con lo siguiente:
«En América las cosas están mal pero aquí están peor. Sé que hay mucha gente que ha perdido su trabajo y sus casas. Sé que aquí los malos tiempos son incluso peor. Nuestro corazón está con vosotros. Queremos dedicar esta canción «Jack of All Trades», a los indignados del 15M y a todos los que están luchando en el sur de España, Ladies and gentleman «Jack of All Trades».
El día antes del concierto, Bruce Springsteen se había despachado a gusto con declaraciones en contra del actual gobierno de España y entidades financieras, afirmando que "España está en auténtica depresión, en Estados Unidos estamos en recesión", como os contamos en Dirty Rock con todo lujo de detalles.
Bruce Springsteen abriendo su concierto en Sevilla con «Badlands»
A éstas horas Bruce Springsteen debe estar ya en tierras canarias disfrutando de sus magníficas playas, su próximo concierto será mañana 15 de mayo en el Estadio de Gran Canaria en Las Palmas de Gran Canaria, junto con el Rock Coast Festival los dos eventos musicales más importantes del año en Canarias.
¿Estará Bruce Springsteen bañándose en estos momentos en alguna playa de Gran Canaria?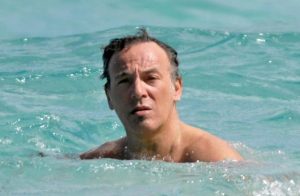 Bruce Springsteen & the E Street Band dejó noqueados a sus fans en tierras españolas durante su primer concierto en Sevilla, a pesar de no llenar el recinto andaluz. Presentó por primera vez en la actual gira «Wrecking Ball», un viejo tema de su disco Born in U.S.A «I´m gong down».
Setlist de Bruce Springsteen and The E Street Band en Sevilla,  13 de mayo de 2012, Estadio La Cartuja.
01. Badlands
02. We Take Care of Our Own
03. Wrecking Ball
04. The Ties That Bind
05. Death to My Hometown
06. My City of Ruins
07. Trapped
08. Out in the Street
09. Jack of All Trades
10. Candy's Room
11. She's the One
12. Darlington County
13. Shackled and Drawn
14. Waitin' on a Sunny Day
15. The Promised Land
16. Apollo Medley
17. Because the Night
18. The Rising
19. Lonesome Day
20. We Are Alive
21. Land of Hope and Dreams
22. Rocky Ground (con Michelle Moore)
23. I'M GOIN' DOWN
24. Born to Run
25. Dancing in the Dark
26. Bobby Jean
27. Tenth Avenue Freeze-Out
Dirty Rock viajará a Las Palmas de Gran Canaria y a Barcelona para ver los conciertos de Bruce Springsteen los días 15 y 17 de mayo. El del 17 será el primero de los dos conciertos que Springsteen ofrecerá en Barcelona. Dirty Rock os mantendrá informados de lo que vaya sucediendo en estas dos ciudades españolas.
Buenos indicios para el concierto de Bruce Springsteen en Las Palmas de Gran Canaria, concierto del año y uno de los más importantes en Canarias este año junto al Rock Coast Festival en Tenerife, la colocación del escenario se encuentra en uno de los fondos del estadio, en Sevilla se encontraba justo en el centro del campo, aunque el aforo fuese mayor.