Deep Purple publicaban el pasado 8 de octubre el lanzamiento de una caja conmemorativa de los 40 años del legendario disco de Hard Rock «Machine Head».
«Machine Head» es el sexto álbum de estudio de Deep Purple, grabado en el Grand Hôtel de Montreux, Suiza, en diciembre de 1971 y editado en marzo de 1972.
«Machine Head» está considerado como uno de los discos más influyentes dentro de la historia del Hard Rock como base de lo que posteriormente se llamaría Heavy Metal.
https://youtu.be/fcdn6G5Dhkw
Este disco de Deep Purple fue el más conocido y halabado por crítica y público, «Machine Head» estuvo en el top 40 del Reino Unido durante más de 20 semanas y 117 semanas en el Billboard de Estados Unidos.
Ian Gillan voz, Ritchie Blackmore a la guitarra, Jon Lord a los teclados, Roger Glover al bajo e Ian Paice a la batería fabricaron siete canciones que siempre quedarán para la memoria, «Highway Star»,»Maybe I'm a Leo»,»Pictures of Home», «Never Before», «Smoke on the Water», «Lazy» y «Space Truckin».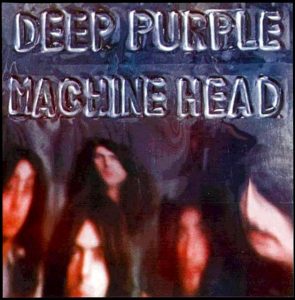 El contenido del Box-Set de «Machine Head» es el siguiente:
CD 1 – Trabajo original remasterizado, versión 2012
CD 2 – Remix de1997, por Roger Glover
CD 3 – Audio original en Quad Stereo
CD 4 – En directo en París, 9 de marzo de 1972
DVD – Audio en remasterización de alta calidad y Surround Mix.
El Booklet o libreto de la caja de discos de «Machine Head» de Deep Purple,  trae la historia de la banda contada por Roger Glover y el editor de la Mojo Magazine, Phil Alexander.
Figuras como Mikael Akerfelt, Luke Morley, Sebastian Vettel, Eddie Jordan, Brian Tatler, Janick Gers y Peter Hook ofrecen distintas declaraciones, mientras Didi Zill, fotógrafo de la portada, concede una entrevista especial.
Deep Purple and thir 40th Anniversary of «Machine Head» with a boxset next November 8th!!