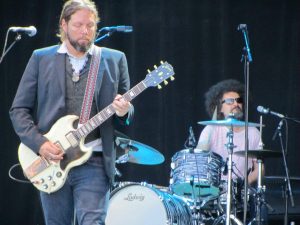 Rich Robinson estará de gira el próximo diciembre en Europa y España presentando "Through A Crooked Sun" (2011) y al que tuvimos la suerte de verlo en la pasada edición del Azkena Rock Festival 2012.
Rich Robinson, junto a su hermano mayor Chris Robinson, fundaron  The Black Crowes a mediados de los años ochenta, sin embargo el cantante, guitarrista y compositor tiene otro disco de estudio en solitario, "Paper" (2004) y otros proyectos en distintas bandas como en  Hookah Brown o Circle Sound.
Como adelanto  a su segundo disco, "Through a Crooked Sun", Rich Robinson publicó un EP titulado "Llama Blues". Dentro de "Through a Crooked Sun", aparecen colaboradores de auténtico lujo como Warren Haynes, John Medeski o Larry Capmbell.
La banda habitual de giras de Rich Robinson la componen Joe Magistro a la batería, Brian Allen al bajo y Steve Molitz a los teclados.
El espectro musical que rodea a Rich Robinson, obviamente es el Blues, Elmore James, Fred McDowell, Lightnin' Hopkins, Jack Dupree,  Muddy Waterso Furry Lewis, en casi toda su extensión, aunque The Rolling Stones, Allman Brothers, Nick Drake, Jimi Hendrix, Peter Green, Andy Irvine, Paul Brady andan vagando a sus anchas en la mayoría de sus composiciones, "Station Man", "Gone Away", "Hey Fear", "It's Not Easy", "Lost and Found" o "Standing on the surface of the Sun" son claros ejemplos de ello.
Está clarísimo que el suave Country Blues, Folk, el Bluegrass y el Rock & Roll de la vieja escuela se deja ver maravillosamente en su nuevo disco "Through a Crooked Sun", con mucha más densidad y destreza que su anterior "Paper".
Escucha el nuevo disco de Rich Robinson "Through a Crooked Sun"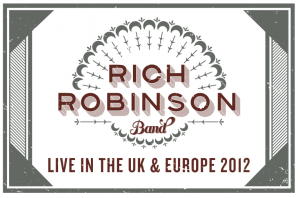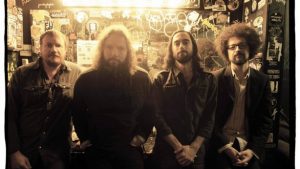 Fechas y ciudades de Rich Robinson para su gira por Europa y España en Diciembre.
Dic 8 – London, The Borderline
Dic 9 – Birmingham, HMV Institute
Dic 10 – Manchester, Sound Control
Dic 11 – Amsterdam, Paradiso
Dic 12 – Paris, Silencio
Dic 14 – Bilbao, BBK
Dic 15 – Madrid, Sala Arena
Dic 16 – Barcelona, Bikini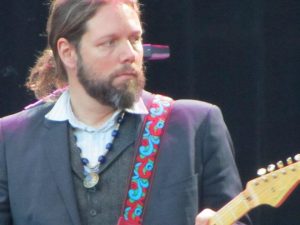 Rick Robinson next European and Spanish Tour in December 2012.