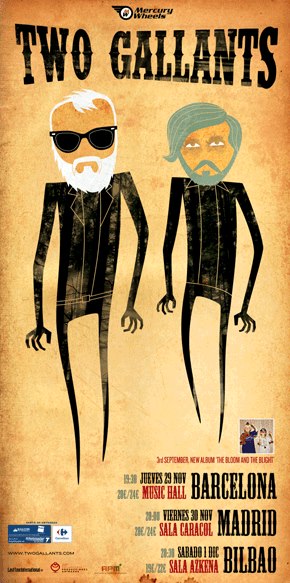 Two Gallants arrancan su nueva gira en España de presentación del cuarto y nuevo disco  "The Bloom and the Blight" en Barcelona el 29 de noviembre (Music Hall), además de las actuaciones de Madrid (Sala Caracol) el 30 de noviembre y Bilbao el 1 de diciembre en la Sala Azkena, tras su último disco homónimo "Two Gallants"(2007).
Two Gallants concentran perfectamente esa electricidad de mugriento Rock Country Blues y Folk en cada una de sus letras y música de dos amigos del Frisco, San Francisco, que un buen día tomaron el nombre de una novela de James Joyce, con Adam Stephens a la guitarra y voces y Tyson Vogel a la batería, en cuatro discos realmente buenos, aunque su tercero no estuviera a  a gran altura.
The Throes, supuso el magnífico punto de partida en el 2004, una época en la que estaba en efervescencia el Rock Blues en Estados Unidos con bandas como King of Lion, White Stripes o The Black Keys, pero de una forma más sosegada, más "lay down", impronta californiana.
"What the Toll Tells", el segundo disco de los dos galanes, con su primer título "Las Cruces Jail", premonitorio inducían de nuevo a la magia del estilo propuesto en su primigenio álbum, los norteamericano practican algo muy simple en la música y que no muchos promulgan, originalidad y entrega bajo el sonido de una guitarra, una armónica, batería, una guitarra y una buena voz, ellos son dos caballeros, Two Gallants desde San Francisco, California.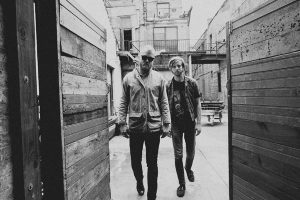 Two Gallants en concierto en España:
Barcelona el 29 de noviembre (Music Hall)
Madrid  el 30 de noviembre (Sala Caracol)
Bilbao el 1 de diciembre en la Sala Azkena.
Escucha el nuevo disco de Two Gallants "The Bloom and the Blight"