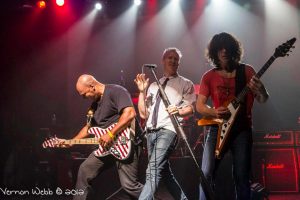 Spin Doctors celebran el veinte aniversario de su disco debut «Pocket Full Of Kryptonite», con una gira europea que tiene como primeros países a Escocia, Inglaterra y España a partir del 23 de enero hasta el 9 de febrero.
Spin Doctors confirman cuatro conciertos en España, el 2 de febrero en Aviles (Casa de la Cultura), el 7 de febrero en Madrid (Teatro Lara), el 8 de febrero Baracaldo (Rock Star Live) y 9 de febrero en Pontevedra (Pazo da Cultura), para conmemorar el multipremiado trabajo.
Spin Doctors se dieron a conocer a comienzos de los años noventa con su disco debut «Pocket Full Of Kryptonite», desde la ciudad de Nueva York el cuarteto formado por Chris Barron cantante y guitarra, Eric Schenkman a la guitarra y coros, Aaron Comess a la batería y Mark White al bajo en el que profesaban Rock y Funk Pop con ribetes Jam.
Spin Doctors han publicado cinco discos de estudio, y ahora en el 2013 tienen previsto publicar su sexto disco titulado «If The River Was Whiskey», su cantante Chris Barron tiene una especial relación con nuestro país, pasa muchas temporadas de vacaciones, le encanta el flamenco y hace unos años se llevaba a Luz Casal de gira por Estados Unidos a la gallega.