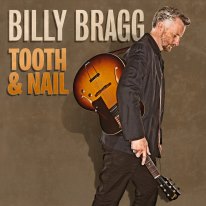 Billy Bragg anuncia nuevo disco "Tooth and Nail", el grandísimo compositor y activista británico cuenta con cantautor Joe Henry como productor del décimo disco de estudio, que se publicará el próximo 18 de marzo.
Billy Bragg publica "Tooth and Nail", tras cinco años de silencio, después del magnífico "Mr. Love and Justice", el nuevo disco de Billy Bragg contiene doce nuevas canciones grabadas en directo y en cinco días en Pasadena, California con una banda de acompañamiento realmente importante.
Escucha "Tooth & Nail" de Billy Bragg.
"Tooth and Nail" de Billy Bragg, fue grabado en el sótano de la casa de Joe Henry, y utilizando la misma técnica de grabación de su álbum debut en 1983, Life's a Riot With Spy Vs. Spy, es decir en directo, crudo y sin añadidos de sonido.
La banda para la grabación del nuevo disco de Billy Bragg estuvo compuesta por Greg Leisz (Bon Iver) al steel guitar, Patrick Warren (Lana del Rey) teclados, Jay Bellerose (Regina Spektor) a la batería y David Piltch (Ramblin' Jack Elliot) al contrabajo.
El primer single de lanzamiento de "Tooth and Nail" fue "Handyman Blues", seguido de "Ideology" y ahora de "No One Knows Nothing Anymore".
"Tooth and Nail", contiene un DVD con los vídeos del período 1986-2002 y una selección de los textos escritos por Billy Bragg para la revista Q Magazine entre los años 2008-2011.
Billy Bragg es un inmenso compositor, rockero y activista británico que comenzó cantándole a la clase trabajadora y pobres, como lo hacía su idolatrado Woody Guthrie,  Jeff Tweedy se fijó en él y grabaron juntos con Wilco, tres discos "Mermaid Avenue", "Mermaid Avenue Vol. II" y "Mermaid Avenue: The Complete Sessions, publicado el año pasado.
Billy Bragg en la década de los años ochenta convocó una gran huelga junto a un sindicato minero inglés contra las políticas de Margaret Thatcher.
"She Came Along to Me" Billy Bragg y Wilco.