Billy Corgan, frontman de Smashing  Pumpkins aparece por primera vez en un anuncio publicitario de corte benéfico, para recaudar dinero a familias y comunidades desfavorecidas en las afueras de Chicago, a través de su compañía de lucha libre "Wrestiling" llamada Resistance Pro, creada en 2011, y otra compañía de muebles de Chicago llamada Walter E. Smithe, conocida en "Windy City" por realizar multitud de anuncios en televisión con personajes relacionados con la cultura.
Tanto Resistance Pro, la empresa de lucha libre de Billy Corgan y la compañía de muebles Walter E. Smith han donado recientemente 50.000 dólares a diferentes asociaciones benéficas en la ciudad de Chicago, una parte que vayan generando ambas empresas irán a estas familias.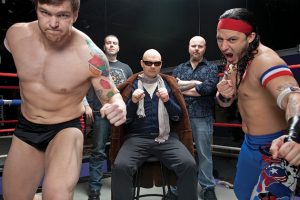 Billy Corgan además de ser dueño y director  creativo de su equipo wrestling, con luchadores como  The Sheik, El Generico, Harry Smith, Kevin Steen, Raven (Agent), o Teddy Hart and Cheerleader Melissa, es propietario de una famosa tetería en Chicago llamada Madame Zuzu.
Billy Corgan fundó su propia compañía de lucha libre Resistance Pro, para sentirse más rebelde. Todos los detalles en el vídeo que lo explica perfectamente
Fechas de la gira mundial de Smashing Pumpkins 2013 World Tour.
March 23, 2013 Cumbre Tajin Festival Mexico
April 29, 2013 King Center for the Performing Arts Melbourne, FL
May 2, 2013 St Augustine Amphitheater St Augustine, FL
May 3, 2013 Funshine Music Festival Tampa, FL
May 5, 2013 Beale Street Music Festival Memphis, TN
May 7, 2013 Red Hat Amphitheater w/AWOLNATION Raleigh, NC
May 8, 2013 Time Warner Amphitheater w/AWOLNATION Charlotte, NC
May 10, 2013 Chastain Amphitheater Atlanta, GA
May 11, 2013 Gulfport Music Festival Gulfport, MS
May 14, 2013 Palladium Dallas, TX
May 18, 2013 Rock on the Range Columbus, OH
June 20, 2013 Live Music Hall Cologne, Germany
June 21-23, 2013 Southside Festival Germany
June 21-23, 2013 Hurricane Festival Germany
June 24, 2013 Zenith Paris, France
June 25, 2013 Zenith Nantes, France
June 27, 2013 Razzmatazz Barcelona, Spain
June 28, 2013 Azkena Music Festival
July 1, 2013 Academy Manchester, UK
July 2, 2013 Academy Glasgow, UK
July 4, 2013 Zenith Lille, France
July 5, 2013 Eurockennes Festival France
July 6, 2013 Beauregard Festival France
July 9, 2013 Rockhal Luxembourg
July 10, 2013 Open Air Arena Vienna, Austria
July 12, 2013 Pohoda Festival Slovakia
July 14, 2013 Rock in Roma Festival Italy
July 16, 2013 Theatre Antique Vienne, France
July 17, 2013 Carcasonne Festival France
July 18, 2013 Mares Vivas Festival Portugal
July 20, 2013 Gurten Festival Switzerland
July 21, 2013 Dour Music Festival Belgium
July 22, 2013 Wembley Arena London, UK
August 10, 2013 Summer Sonic Osaka, Japan
August 11, 2013 Summer Sonic Tokyo, Japan