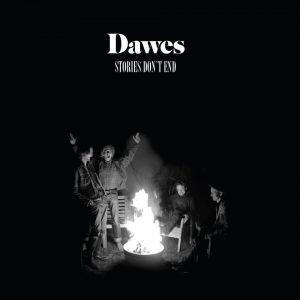 Dawes presentan su nuevo y tercer trabajo de estudio titulado "Stories Don't End", el próximo 9 de abril, en el que el cuarteto californiano, compuesto por los hermanos Taylor y Griffin Goldsmith, Wylie Gelber y Tay Strathairn, desean coronarse dentro del Country Rock actual.
"Stories Don't End" de Dawes, está compuesto por doce canciones producidas por Jacquire King (Kings of Leon, Of Monsters and Men, Cold War Kids), quiere darle un vuelco setentero a las nuevas canciones del disco, y en el que en su anterior disco «Nothing is Wrong» (2011), mantenían esa línea Crosby, Stills & Nash, Jackson Browne o The Jayhawks.
Escucha el primer adelanto de Dawes «From a Window Seat»
Escucha «Stories Don't End», el nuevo disco de Dawes.

Dawes son habituales compañeros de las gira de Jackson Browne en la costa oeste, también el pasado año, durante la gira norteamericana de Mumford & Sons, abrieron para los británicos, cuando en realidad debió ser lo contrario. ¿Lo que hace el dinero y las multinacionales verdad?
Escucha el nuevo disco de Dawes hasta el próximo martes en el siguiente enlace.
Dawes abrirán once conciertos de Bob Dylan a partir del próximo mes de abril en la costa este norteamericana desde el 5 al 21 del mismo mes.
Dawes «Stories Don't End», tracklist
1. Just Beneath The Surface
2. From A Window Seat
3. Just My Luck
4. Someone Will
5. Most People
6. Something In Common
7. Hey Lover
8. Bear Witness
9. Stories Don't End
10. From The Right Angle
11. Side Effects
12. Just Beneath The Surface (Reprise)