Sister Rosetta Tharpe, y su influencia en el Rock & Roll es mayúscula, la compositora, gran guitarrista y cantante se crió entre iglesias y esclavos algodoneros, y llenando de Gospel, Boogie Woogie y Jazz al Jump Blues, y transformándolo en Rock & Roll en la década de los 30's y 40's, Sister Rosetta Tharpe se convierte en la madrina del Rock'N'Roll.
Sister Rosetta Tharpe, desde muy jóven interpretó Blues y Jazz junto a sus padres, en las iglesias evangelistas de los campos algodón de Arkansas, su vida da un vuelco enorme al trasladarse a Chicago a finales de los años 20, en la que comienza a fusionar el Blues, Jazz y Gospel en sus canciones, muchos la empiezan a comparar con la guitarrista de Blues Memphis Minnie.
Sister Rosetta Tharpe consigue su primer contrato discográfico a finales de los años treinta, y ya durante la segunda guerra mundial, es una de las voces favoritas de los soldados norteamericanos, especialmente los de color, junto a la inglesa Vera Lynn, que también cumple hoy 96 años, las voces más importantes durante la segunda guerra mundial para las tropas anglosajonas.
Vera Lynn interpretando "We'll Meet Again".
Tras la guerra, el éxito de Sister Rosetta Tharpe se acrecentó con la aparición de artístas que habían sido influenciado por su música, casos de Little Richard, Aretha Franklin, Elvis Presley, Jerry Lee Lewis, o Johnny Cash.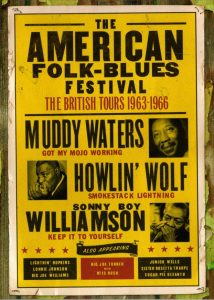 A mediados de los años 60, Sister Rosetta Tharpe, acompañó a Muddy Waters, Otis Spann, Ranson Knowling, Little Willie Smith, Reverend Gary Davis, Cousin Joe, Sonny Terry y Brownie McGhee, en una gira llamada Blues and Gospel Caravan, en la que su Gibson SG disparó sin cesar.

Sister Rosetta Tharpe, murió a los 58 años de edad, en 1973, tras sufrir una grave diabetes, le fue amputada una pierna, desde 2007 es miembro del Blues Hall of Fame y cada 11 de enero es recordada como su día en el estado de Pennsylvania, Sister Rosetta Tharpe Day.