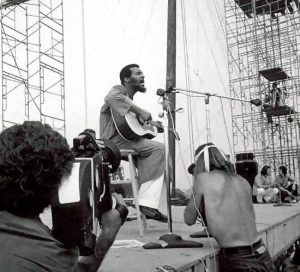 "Another goodbye to another good friend".
Richie Havens ha muerto hoy a la edad de 72 años, el genial compositor y cantante neoyorquino será recordado siempre por su actuación portentosa en el festival de Woodstock de 1969, en el que abrió el festival con una actuación de casi tres horas y en el que dejó para la historia una canción «Freedom», canción tomada de un viejo tema gospel negro spiritual llamado «Motherless Child».
Richie Havens, cantante de Folk Rock y Soul, fue sometido el año pasado a un trasplante de hígado, dejando aparcada una nueva gira.
Richie Havens grabó un total de 21 discos, habitual de conciertos benéficos, ganador del premio Peace Abbey Courage of Conscience Award, músico que te lo podías encontrar perfectamente en los cientos de bares de Greenwich Village en Nueva York, será recordado siempre por su fiereza a la hora de interpretar canciones, y sus actuaciones también en la Isla de Wright, Glastonbury, Fillmore Auditorium, Royal Albert Hall o las del Carnegie Hall durante todos estos años.
Richie Havens participó en el famoso concierto del 30 aniversario de Bob Dylan en Nueva York, el Bob Dylan 30th Anniversary Concert, interpretando «Just like a Woman», o colaboraciones importantes con Peter Gabriel, Cyndi Lauper o Groove Armada.
«Nobody Left To Crown» (2008), fue el último disco de estudio de Richie Havens.
Hoy también nos encontramos tristemente con la noticia de la muerte también de la cantante australiana Chrissy Amphlett del grupo Divinyls, que falleció a los 53 años, como os contamos en Dirty Rock.
Richie Havens y Groove Armada en «Hands of Time».
"Another goodbye to another good friend".