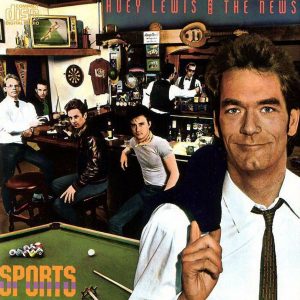 Huey Lewis and the News celebra el treinta aniversario de "Sports" (1983), el álbum que catapultó a los norteamericanos a la fama con canciones como "I Want a new Drug", "Bad is Bad", "If This Is It", "Honky Tonk Blues", "The Heart of Rock & Roll", "Heart and Soul",o "Walking on a Thin Line" entre otras, disco que acaba de publicarse hace unos días.
Huey Lewis and the News proceden de San Francisco, seis amigos que vivían entre Kentfield, Ross y Fairfax en Marin County, deciden formar una de las bandas de Pop Rock Rhythm & Blues y Soul más importantes de la década de los años 80.

Huey Lewis and the News presentando el disco hace unos días en el programa de Jimmy Kimmel desde Los Angeles.

Huey Lewis and the News, nueve discos grabados de estudio hasta el 2010, más de treinta millones de copias vendidas, doce números uno, tres discos de platino con álbumes tan populares como Sports, Fore!, y Small World y aquellas dos arrolladoras canciones en la película Regreso al Futuro con "The Power of Love" y "Back in Time".

"Sports" de Huey Lewis and the News irá acompañada de una gran gira en Estados Unidos que comenzó el pasado 10 de mayo en New Jersey y termina el 26 de agosto en Tennesse.