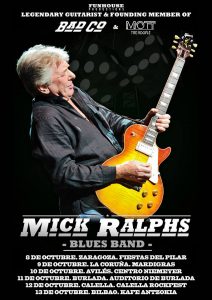 Mick Ralphs, guitarrista del riff de "All the Young Dudes" o de "Can't get enough", compositor y fundador de legendarias bandas como Bad Company o Mott The Hoople, realizará una pequeña gira por España en el mes de octubre que le va a llevar a Zaragoza, A Coruña, Avilés, Navarra y Barcelona, acompañado de su banda Mick Ralphs Blues Band.
Mick Ralphs Blues Band interpretará durante su gira española clásicos del Blues y Rhythm & Blues, y temas compuestos durante su etapa en Mott The Hopple junto a Ian Hunter desde 1969 hasta 1973, con grandes clásicos como Thunderbuck Ram, Whiskey Women, Ready For Love o Rock'n'Roll Queen entre otros temas.
Mick Ralphs también interpretará canciones de su estapa en Bad Company, tras abandonar Mott the Hopple, cuando la fundaron Paul Rodgers de Free, el batería Simon Kirke, y el bajista de King Crimson Boz Burrell, temas como Can't Get Enough, Movin' On, Ready For Love, Good Lovin' Gone Bad o Feel Like Makin' Love entre otras canciones.
Mick Ralphs Blues Band lo componen Mick Ralphs guitarra y coros, Sam Kelly (Dr. John, Chaka Khan, Eddie Floyd o Desmond Dekker) a la batería, Son Maxwell (Storm Warning) a los coros y armónica, Jim Maving (The Kickback) a la guitarra y coros y Dicky Baldwin (Albert Lee, Gordon Giltrap o George Hamilton 4th) al bajo.
Mick Ralphs Blues Band recientemente acaba de publicar un álbum en directo el pasado 11 de agosto de 2013 titulado "Should Know Better, Live at the Musician".
Fechas de la gira española de Mick Ralphs Blues Band 2013.
8 octubre, Zaragoza. Fiestas del Pilar
9 octubre, La Coruña. Mardigras
10 octubre, Avilés. Centro Niemeyer
11 octubre, Burlada.Auditorio de Burlada
12 octubre, Calella. Callela Rockfest
13 octubre, Bilbao. Kafe Antzokia