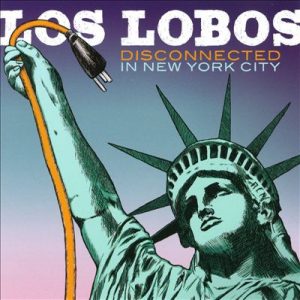 Los Lobos, la mejestuosa banda de Rock desde el este de Los Angeles en California y formada por David Hidalgo, César Rosas, Louie Pérez, Steve Berlín y Conrad Lozano, celebran su 40 aniversario de carrera musical con un disco en directo titulado "Disconnected in New York City", grabado en Nueva York y que se publica el 29 de octubre de 2013.
Los Lobos grabaron "Disconnected in New York City", su nuevo disco en directo en el The City Winery el pasado diciembre de 2013, con la actual formación desde 1973, más los músicos adicionales Enrique "Bugs" González y Camilo Quiñones.
Los Lobos, banda chicana que en su inicios practicaban Punk y Rock en la escena underground angelina, poco a poco fueron mezclando en su sonido ritmos Folk, Rock, Latino, Mexicano, Blues o Rhythm & Blues y en el que a finales de los años setenta se involucraban en la lucha y apoyo a los trabajadores agrícolas emigrantes en Estados Unidos.
Escucha "Disconnected in New York City" de Los Lobos.

Los Lobos dieron el despegue definitivo al conocer a un miembros de The Blasters a comienzos de la década de los ochenta, grabando un nuevo disco producido por T-Bone Burnett, "And Time to Dance" y obteniendo el Grammy a la mejor actuación mejicana norteamericana, por su tema "Anselma".