The Deep End presentan en España "Cop This", su primer larga duración,  durante una larga gira entre los meses de febrero y marzo de 2014, éste quinteto australiano que destila potente Rock and Roll a través de esos riffs gruesos, escupidos por guitarras y batería.
The Deep End procedentes de Melbourne en Australia comenzaron su carrera profesional en el año 2007, grabando tres EP's, antes de publicar su primer disco "Cop This" el pasado 22 de febrero de 2013.
The Deep End visitan Europa y España por primera vez, durante los primeros meses del año de 2014, tras labrarse una corta pero intensa carrera encima de escenarios neozelandeses, australianos y norteamericanos compartiendo conciertos con bandas como Airbourne, Rose Tattoo, Screaming Jets o The Datsuns entre otros.
Fechas de la gira española 2014 de The Deep End:
13 de febrero de 2014: Zaragoza, La Ley Seca
14 de febrero de 2014: Barcelona, Rocksound
15 de febrero de 2014: Castellon, Pub d'Leyend
16 de febrero de 2014: Orihuela, La Gramola
17 de febrero de 2014: Estepona, Louie Louie
18 de febrero de 2014: Cádiz, Supersonic
19 de febrero de 2014: TBA
20 de febrero de 2014: Madrid, Wurlitzer Ballroom
21 de febrero de 2014: A Coruña, Mardi Gras
22 de febrero de 2014: Cangas, Salason
23 de febrero de 2014: Ourense, Café Cultural Ourense
24 de febrero de 2014: TBA
25 de febrero de 2014: TBA
26 de febrero de 2014: León, Grand Café
27 de febrero de 2014: Aldea De San Miguel, Cuco's Tabern
28 de febrero de 2014: Burgos, Estudio 27
1 de marzo de 2014: Vitoria-Gasteiz, Helldorado
2 de marzo de 2014: Monzón, Serjo's Zona Rock.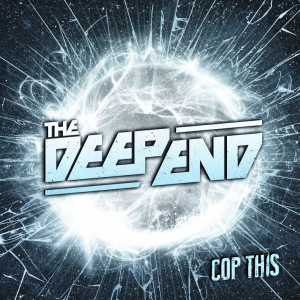 De la mano de su cantante Dale Schober, conoceremos un poco más a la banda australiana The Deep End en nuestra entrevista.
| | |
| --- | --- |
| 1. Can you describe us The Deep End music? | ¿Podéis describirnos la música que hace The Deep End? |
| The Deep End plays rock n' roll that is the soundtrack for a big Saturday night (or any night) of drinking! Our style of rock n' roll is traditionally Aussie and we are proud to fly the flag high for Aussie rock n' roll! | ¡The Deep End toca rock'n'roll, que es la banda sonora de una gran sábado noche (o de cualquiera) de borrachera! Nuestro estilo de rock'n'roll es típicamente australiano, por eso estamos muy orgullosos de ondear esa bandera de rocanrolera australiana. |
| 2. Could you tell Spanish audience The Deep End musical background?  | ¿Podéis contar a vuestra audiencia en España, cómo empezásteis? |
| The Deep End started in 2007 as an idea over beers in a suburban Melbourne garage. We first started off by playing covers of our favourite classic rock n' roll songs and then eventually begun writing our own songs. When we worked out we could write some good songs of our own we started to play gigs. | The Deep End comenzó en el 2007 como una idea de formar una banda en un garaje de Melburne. Primero comenzamos tocando versiones de nuestros clásicos favoritos del rock'n'roll para finalmente comenzar a escribir nuestras propias canciones. Con esfuerzo compusimos buenos temas y empezamos con los conciertos. |
https://youtu.be/hAWNQY9ZJ4c hAWNQY9ZJ4c
| | |
| --- | --- |
| 3. The ten songs of your brand new album, are influenced by whom and what do they talk about?  | ¿Las diez canciones de vuestro último disco qué influencias tienen y de qué hablan? |
| All of the songs on the album are related to personal experiences by one or more of us. There are songs about women, drinking, fighting for rock n' roll and having a good time! | Todas las canciones del disco están influenciadas por experiencias personales por todos nosotros. ¡Hay canciones sobre mujeres, bebidas y lucha de rock'n'roll y pasarlo bien! |
| 4. "Cop This" is your debut album, wich are the main differences between your previous EP releases ?  | "Cop This" es vuestro debut con un larga duración. ¿Cuáles son las diferentes entre éste y vuestros anteriores Ep's? |
| The main differences are without a doubt the production quality. I think we've also grown a lot more sonically and have expanded our sound more since the EP's. | Las diferencias principales están sin duda alguna en la calidad de la producción. Creo que hemos crecido en cuanto a sonoridad, expandiéndolo más que en nuestros EP's. |
| 5. How are The Deep End on the stage? Do you make cover versions?  | ¿Cómo son The Deep End encima de un escenario? y ¿Hacéis versiones? |
| We pride ourselves on being the most energetic, hi-octane band you ever see live. Since day one we've always had one rule: No standing still. If you stand still, you will get hit by a microphone or guitar. That hurts. We play covers every now and then, just to have a bit of fun and give new crowds something they have heard before. | Estamos orgullos de nosotros mismos por ser más potentes, lo veréis en directo. Desde el día uno, tenemos una premisa: No quedarte quieto. Si lo haces te golpeará una guitarra o un micrófono, y eso duele. Tocamos versiones desde siempre, y lo hacemos para agradar al público con temas que han escuchado anteriormente. |
Escucha "Cop This" de The Deep End.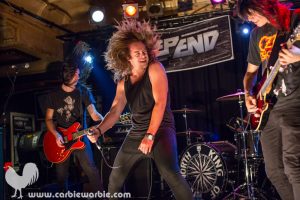 | | |
| --- | --- |
| 6. What kind of music do you usually play? Any good song, record, band you lately like?  | ¿Qué tipo de música soléis escuchar y os gusta? ¿Hay alguna canción o grupo que os haya gustado últimamente? |
| We only ever play rock n' roll. The only exception would be our cover of 'What's Up?' by Four Non Blondes. Even that though starts off like the original but then kicks into hi-octane rock n' roll! We've all got varying tastes in music but one band that I am really getting into at the moment is Alter Bridge. Myles Kennedy is phenomenal. | Siempre tocamos rock'n'roll. La excepción es nuestra versión de la balada de Four Non Blondes "What's Up?", que empezamos como la original pero la terminamos a nuestro estilo, es decir alto octanaje de rock'n'roll. Tenemos una amplia variedad de gustos musicales dentro de la banda. Ahora mismo estoy puesto en la música de Alter Bridge y de Myles Kennedy, el cual es fenomenal. |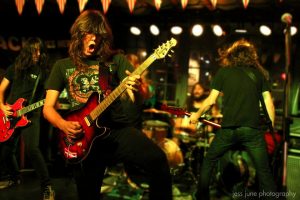 | | |
| --- | --- |
| 7. Analog or Digital to record an album?  | ¿Analógico o digital para grabar un disco? |
| I think in the digital age it's best to utilise the tools available at digital. From there, you can still bounce the mixes to tape to get that traditional analog sound! | Creo en la era digital, y es mejor utilizar herramientas digitales. ¡A partir de ahi puedes devolver las mezclas a cinta y obtener el tradicional sonido analógico!. |
| 8. What are your expectations coming to Spain and Europe for the very first time?  | ¿Cuáles son vuestras expectativas acerca de vuestra gira y visita a España? |
| We've heard that Europe and especially Spain are the hardest rockers in the world and love to drink! That means you're just like us! We're expecting some pretty crazy shows and some even crazier after parties if you guys are up for it! We can't wait. We look at our plane tickets every day in anticipation! | ¡Hemos escuchado que en Europa y especialmente en España son los rockeros más potentes y les encanta beber!. ¡Eso significa que sóis como nosotros!. ¡Esperamos tener unos conciertos realmente enfervorizados y después de ellos también, no aguantamos más! ¡Estamos todo el rato mirando nuestros billetes de avión cada día y a la expectativa. |
| | |
| --- | --- |
| 9. Do you know Spanish Rock & Roll music, artist, etc?  | ¿Conoces algún músico o artista español? |
| Not yet! But hopefully we get to play with some cool bands next year! | Aún no. Pero esperamos tocar con alguna el año que viene. |
| 10. Is There anything you want to tell us we won't ask you?  | ¿Hay algo que queráis decir que no os hayamos preguntado? |
| It's true, our bass player Matt does have herpes (and probably some other things too..) | Cierto, nuestro bajista Matt tiene herpes (y algunas cosas más también…) |
| 11. Would you mind send Dirty Rock readers a message and encourage them to see you in your upcoming shows?  | ¿Os gustaría enviarle un mensaje a los lectores de Dirty Rock para animarlos a ver uno de vuestros conciertos? |
| Muchos gracias for all the support so far, we have lots of love from Spain and it is awesome. We are looking forward to Spain the most out of our whole upcoming tour, but don't tell anyone else that, OK? A Deep End gig can be compared to throwing a case of beer through a jet engine! We're gonna rock as hard as we can on stage every night, you guys are gonna get drunk and we're all going to have an awesome time. You're going to leave smiling ear to ear and with no voice left! | "Muchos gracias" por todo el apoyo hasta el momento, les tenemos mucho aprecio y eso es increíble. Esperamos esa gira por España como ninguna otra, pero no se lo digáis a nadie, ¿vale?. ¡Un concierto de Deep End puede ser comparado como una caja arrojada a la turbina de un avión!. Vamos a rockear lo más fuerte que podamos en el escenario cada noche, ustedes se emborracharán y todos lo vamos a pasar bien. Cuando salgáis del concierto tendréis una sonrisa de oreja a oreja y estaréis sin voz. |