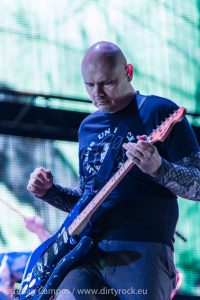 The Smashing Pumpkins de la mano de su líder Billy Corgan anuncia dos nuevos álbumes para el 2015 titulados «Monuments To An Elegy» y «Day For Night».
Ambos discos de The Smashing Pumpkins estarán producidos por Howard Willing con el que ya trabajó en el disco «Adore» (1998), cuarto álbum de estudio de los de Chicago.
Billy Corgan también fue noticia recientemente por su concierto de ocho horas el pasado mes de marzo en su tetería de Chicago Madame ZuZu's Tea Shop, velada inspirada en la novela «Siddartha» del alemán Hermann Hesse en 1922, en la que cuenta la vida de un hombre hindú llamado Siddhartha, que incide en la búsqueda de la sabiduría como la unidad, á inspirándose en alguna medida en la vida y experiencias de Buda.