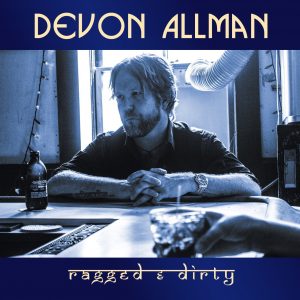 Devon Allman hijo del gran Gregg Allman y componente  de Devon Allman's Honeytribe, The Royal Southern Brotherhood publicará nuevo disco «Ragged & Dirty»,  el próximo 14 de octubre tras su anterior y excelente «Turquoise» (2013).
Devon Allman hace muy poco nos sorprendía a todos publicando el segundo disco del súper grupo The Royal Southern Brotherhood el pasado mes de junio con «Heartsoulblood», grupo formado por Cyril Neville, Devon Allman, Mike Zito, Yonrico Scott y Charlie Wooton.
El nuevo disco de Devon Allman ha sido grabado por Tom Hambridge en Chicago totalmente en analógico y con instrumentos de la vieja escuela bluesera.
Escucha «Ragged & Dirty» de Devon Allman.
Escucha «Heartsoulblood» (2014), el nuevo disco de The Royal Southern Brotherhood al que pertenece Devon Allman.
Lista de canciones de «Ragged & Dirty», nuevo disco de Devon Allman.
1. Half The Truth
2. Can't Lose'em All
3. Leavin'
4. I'll Be Around
5. Travelling
6. Midnight Lake Michigan
7. Ten Million Slaves
8. Blackjack Heartattack
9. Back To You
10. Times Have Changed
11. Ragged & Dirty
12. Leave The City