Paul Weller aterrizó en Barcelona el pasado 2 de julio en el Auditori Aire Lliure, Barcelona, Festival Pedralbes 2015 para presentar su último trabajo Saturns Pattern y ofrecer un buen concierto en la tercera edición de este festival en un lugar realmente inmejorable en el segundo concierto en su mini gira por España este verano.
Paul Weller como en los ochenta tiene en estos tiempos una capacidad de adaptación inverosímil, fue de los pocos creadores británicos que pudo hacer las cosas y discos más dispares sin perder por ello autenticidad, ofreciendo saltos estilísticos de toda clase y convirtiéndose en uno de los personajes más distinguidos y creíbles en el Reino Unido.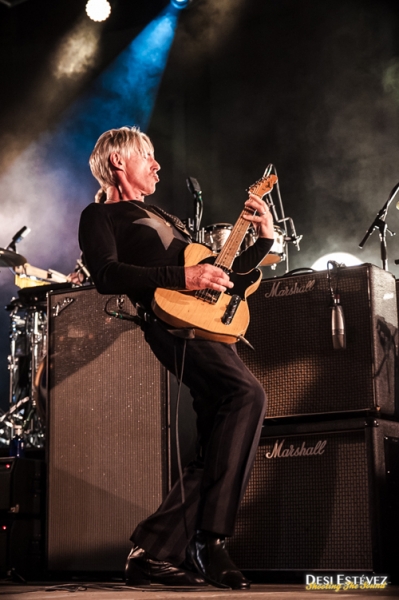 Paul Weller en su concierto en los jardínes de Pedralbes de Barcelona fue capaz de fiel a sí mismo, igual que su banda, realmente exuberante en una austeridad escénica, en la que creemos viviendo en su  mejor momento, recibió la mejor valoración de un público que se levantó de sus asientos al tocar uno de sus clásicos "Start!" de The Jam y no antes.
Paul Weller es autor de grandes canciones y grandes discos como demostró en Barcelona, con una variedad de estilos y temas en una tormenta para nostálgicos de poco más de hora y media, y dejando noqueado a las primeras de cambio al respetable, con esta esponja llamada Paul Weller que absorve todo lo que se le cruza en su camino del ex líder de The Jam y The Style Council, con 40 años de carrera musical, gran admirador del Soul y el R&B, Paul Weller fue con The Jam el líder absoluto en el Reino Unido del revival mod de empuje punk surgido a finales de los años 70.
Desi Estévez Shooting the Sound en flickr.
Desi Estévez Shooting the Sound en 500px.