Danko Jones publican «Fire Music», séptimo álbum de estudio del trío canadiense de Hard Rock compuesto por Danko Jones (voz y guitarra), John JC Calabrese (bajo) y Rich Knox (batería).) que presentan su nuevo disco en una gira española el próximo mes de diciembre con cuatro fechas confirmadas de esta formación que también juguetea con el Metal, Punk y Garage.
Danko Jones han creado durante estos últimos 20 años una marca singular de rock'n'roll basado en el garage de los 60, el power pop y hard rock setentero y metal escandinavo noventero, todo sin definirse en un estilo concreto pero aún así cada disco que publica posee una identidad y actitud propia, como su documental en DVD, «Bring the Mountain», y su libro «Too Much Trouble: A very Oral History of Danko Jones».
Danko Jones publicarán el próximo 29 de enero de 2016 un DVD y álbum en directo «Live At Wacken», con motivo del 20 aniversario de su fundación. La formación canadiense estuvo de gira en el 2013 promocionando aquel disco de canciones perdidas Rock and Roll is Black and Blue.
De la mano de su vocalista y excéntrico Danko Jones, concede una nueva entrevista para todos los lectores de Dirty Rock Magazine, de este personaje inmenso. Su presencia en un escenario es desbordante y en ocasiones apabulla metiéndose al público en el bolsillo desde el minuto uno como pudimos comprobar en el Azkena Rock Festival en el 2012, de una banda en la que su fórmula esté más que trillada no deja de tener ese nervio y un repertorio bastente bueno.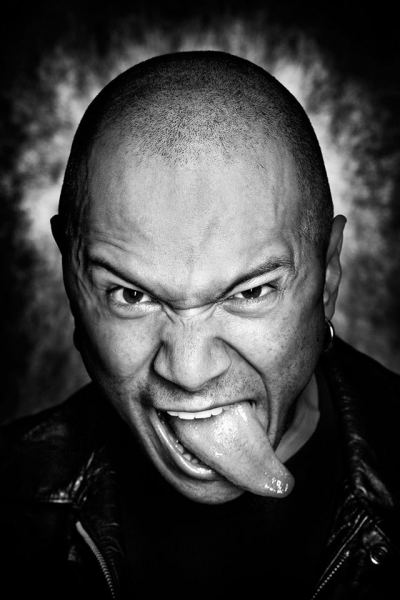 Escucha el nuevo disco de Danko Jones «Fire Music»(2015):
Fechas de la gira española de Danko Jones en España 2015:
1 de diciembre en Madrid, sala Arena
2 de diciembre en Sevilla, sala Custom
3 de diciembre en Pamplona, sala Zentral
4 de diciembre en Girona, sala La Mirona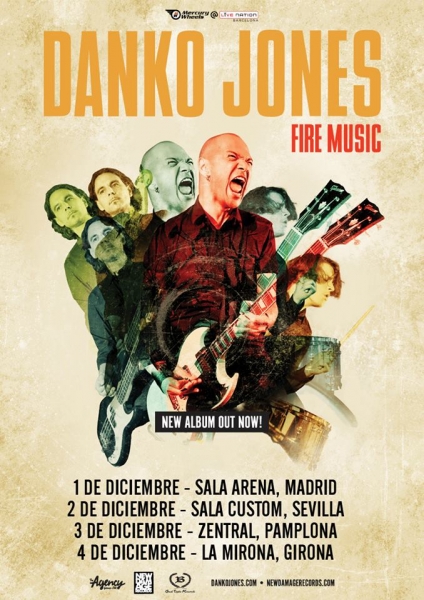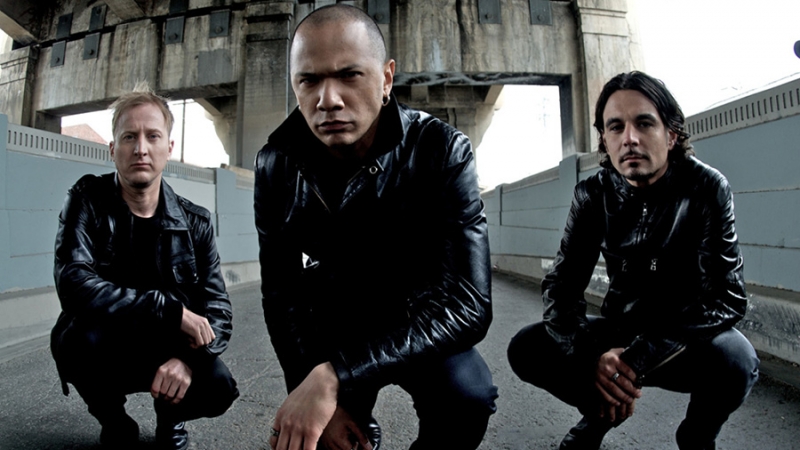 Interview to Danko Jones / Entrevista a Danko Jones:
1. First of all, Welcome to Spain Danko Jones!  how managed through almost 20 years and after and now with "Fire Music", how are you facing your next Spanish tour ?
Looking forward to the Spanish dates. It's been a while since we've been there. Can't wait to play!
1. Primero que nada, ¡Bienvenidos a  España Danko Jones! Cómo ha gestionado durante estos 20 años desde su formación ahora con este nuevo disco «Fire Music» ¿cómo encaráis esta próxima gira en España?
Deseando que llegue el momento para tocar esas fechas en España. Ha pasado tiempo desde la última vez que estuvimos, ¡no aguntamos más!
2. How  "Fire Music", come together guys and should be a story behind the title of record or song? In sitting down to record  "Fire Music", what were your goals and do you think you accomplished them?
We wanted to make a record that showcased our punk rock influence, mainly The Misfits. They've always been an influence. We just decided to wear it on our sleeve a little higher. «Fire Music» pretty much encapsulates the fury of the songs contained on it.
2. ¿Cómo se construyó vuestro nuevo disco «Fire Music», alguna historia detrás de su título o alguna canción y si al final vuestras metas se lograron?
Queríamos hacer un disco que mostrase nuestra influencia Punk Rock, esa que proviene de los Misfits. Siempre han sido influyentes. Decidimos llevar este nuevo disco «Fire Music» hacia cotas más altas con nuestro estilo. «Fire Music» condensa toda esa furia en las canciones que contiene.
3. What are your feelings about what happened in Paris a few days ago? How do you think these issues can be solved?
It was a tragic event. It was a terrible nightmare.
3. ¿Qué sensaciones tenéis sobre lo ocurrido en París y sus atentados terroristas y cómo creéis que estos problemas podrían ser resueltos?
Fue un suceso trágico. Una terrible pesadilla.
4. Could you tell Spanish audience guys musical background and Who inspires you to do what you do and which musicians that have influenced your sound and approach to creating your own style of music?
There are a lot of bands that influence us – everyone from Kiss to Black Flag, ZZ-Top to Slayer, Kool Keith, Birthday Party, Kyuss, Captain Beyond, AC/DC, The Melvins, Thin Lizzy, The Makers, The Beastie Boys, Budos Band, The Oblivians, The Gories, The Hellacopters, MC5 and about 1000 other bands that I can list here but don't have the time nor the space.
4. ¿Podrías contar a la audiencia en España Danko Jones de dónde procede vuestro aprendizaje y experiencia musical y qué músicos te han inspirado o influenciado a la hora de crear tu propio estilo?
Hay un montón de bandas que nos han influenciado desde Kiss to Black Flag, ZZ-Top to Slayer, Kool Keith, Birthday Party, Kyuss, Captain Beyond, AC/DC, The Melvins, Thin Lizzy, The Makers, The Beastie Boys, Budos Band, The Oblivians, The Gories, The Hellacopters, MC5 y otras mil más que no puedo ahora enumerar por falta de tiempo y espacio.
5. What is the best satisfaction you would like to take with you after the shows in Spain?
I hope all the shows are well attended and everyone has a good time.
5. ¿Cual sería la mejor satisfacción que les gustaría llevarse tras los conciertos en España?
Espero que todos los conciertos se llenen y todo el mundo se lo pase bien.
6. How is Toronto and Canada musical scene and their culture of Rock and Rock right now and specially talking about Rock and Roll, Hard Rock, Punk, etc? What bands do you follow in this city or Canada?
Toronto is a great fertile place for great music. Bands like Biblical, Cancer Bats, Fucked Up, Wrong Hole are great.
6. ¿Cómo es la escena musical de Toronto o de Irlanda donde residís y su cultura en cuanto a géneros como Rock, Country, Blues, Americana o música de raíces en estos momentos?
Toronto es un lugar bastante fecundo para la buena música. Formaciones como Biblical, Cancer Bats, Fucked Up, Wrong Hole son geniales.
7. What are the best and worst parts of being on tour?
It's great to get a chance to play every night in front of a crowd that knows your music. That's what we live for. It gets hard when you're constantly away from home for prolonged periods of time.
7. ¿Qué es lo mejor y peor de estar en una gira?
Es maravilloso el tener la oportunidad cada noche de tocar enfrente de un público que conoce tu música. Eso es para lo que vivimos. Se hace difícil cuando se está constantemente fuera de casa por períodos prolongados de tiempo.
8. What kind of music you guys listen to while on the road in your van and who carries the biggest suitcase and what is in it? Any good song, record, band you lately like ? Do you know Spanish Rock or Rock artist, etc?
We all listen to all kinds of music, whether it's Rock, Metal, Indie Rock, Rap, Jazz, Experimental/Avant Garde. One shouldn't listen to only one kind of music. That's a terrible way to live life. We all carry the same sized luggage.
8. ¿Qué tipo de música escucháis cuando vais de gira en la furgoneta, quién carga con el equipaje más pesado y qué hay en él? ¿Algún buen disco, canción, banda que os guste últimamente? ¿Conocéis algún artista español?
Todos escuchamos todo tipo de música, lo que sea Rock, Metal, Rock independiente, Rap, Jazz, Avant Garde, experimental. Uno no debería solamente escuchar un sólo tipo de música. Esa es una terrible manera de vivir la vida.  Todos cargamos el mismo tipo de maleta y tamaño.
 9. What's the seediest place in which you have ever played and What's the most absurd thing that's ever happened to you during a show? What do you drink during the shows and what kind of bad things do you do while playing? Are you guys Beer or Whiskey?
Travelling and touring in Canada can get very seedy, depending on where you go. I don't drink alcohol.
9. ¿Cuál ha sido el lugar más cutre dónde hayáis tocado, y qué es lo más absurdo que os haya ocurrido durante una actuación? ¿Qué bebéis durante los conciertos y qué cosas malas hacéis cuando estáis tocando?
Viajar y estar de gira en Canadá puede ser muy jodido, dependiendo a donde vayas. No bebo alcohol
10. Do you foresee a long career as a band?
Next year will be our 20th year as a band.
10. ¿Prevé una carrera más larga como banda?
El año próximo cumplimos 20 años como banda.
11.Is There anything you want to tell us we won't ask you Danko Jones? and Would you mind send Dirty Rock readers a message and encourege them to see Danko Jones in your upcoming shows in Spain?
 Hope to see everyone at the shows. Come on out 'cause they're gonna be Rock Hot!
11. ¿Hay algo que os gustaría decir Danko Jones? y que no te hayamos preguntado?, ¿os gustaría enviarle un mensaje a los lectores de Dirty Rock para animarlos a ver uno de tus conciertos?
¡Espero veros a todos en los conciertos. Vamos porque eso va estar que arde!