La legendaria banda de metal Slayer dicen adiós a los escenarios y anuncian su última gira mundial. El conjunto de thrash metal estadounidense Slayer anunció su retiro de los escenarios a través de un vídeo publicado en su cuenta de YouTube. "El final de los días se acerca…", dice el vídeo publicado por la banda que lidera el cantante y bajista de origen chileno Tom Araya, tras casi 40 años en la carretera.
Slayer se formó 1981. En 2013 el batería Dave Lombardo fue expulsado de la agrupación. Ese mismo año los músicos sufrieron la partida del guitarrista Jeff Hanneman, uno de los miembros fundadores, de una fascitis necrotizante. El último disco publicado fue Repentless, editado en 2015. Permanecen en activo dos de sus miembros fundadores: Tom Araya y Kerry King.
La banda estadounidense nació en 1981 en Huntington Park en California, banda siempre acusada por simpatizar con la ideología nazi, destacan canciones como Angel of death, Rainning blood y Seasons in the Abyss. Junto a otras bandas como Metallica, Megadeth y Anthrax está considerada como uno de los conjuntos que crearon el estilo musical de thrash metal de los años ochenta.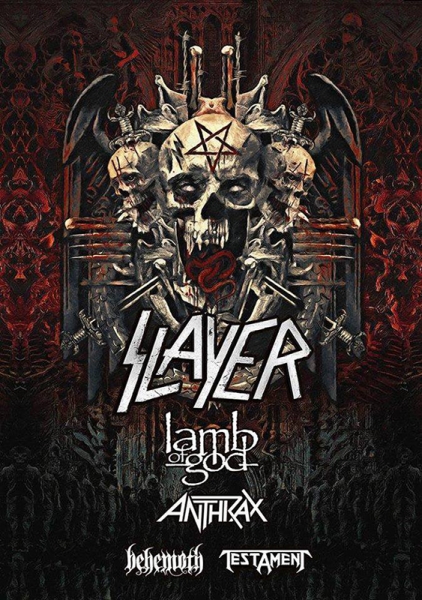 Lamb of God, Anthrax, Testament y Behemoth, serán las bandas que acompañen a Slayer en su despedida de las que ya hay fechas en Estados Unidos y Canadá en mayo y junio.