KISS anuncia 2 conciertos en España en su gira mundial de despedida denominada «End Of The Road World Tour» el 4 de julio de 2020 en Barcelona en el Rock Fest Bcn y el 5 de julio en Madrid. Las fechas españolas forman parte de una gira de casi una centena de fechas. El último concierto del tour «End Of The Road» tendrá lugar en Nueva York, Estados Unidos, el 17 de julio de 2021.
Recordemos que KISS ya realizó otra gira de despedida entre 2001 y 2002, si bien posteriormente Paul Stanley, vocalista y guitarrista del grupo, aseguró que el «Farewell Tour» fue un intento de «sacar a KISS de su miseria» después de años de disputas entre los componentes del grupo. Y también en 2012 tras anunciar su último disco hasta la fecha «Monster», aquel sería el último disco de la banda y gira.
Fechas de gira europea y sudamericana de KISS 2020: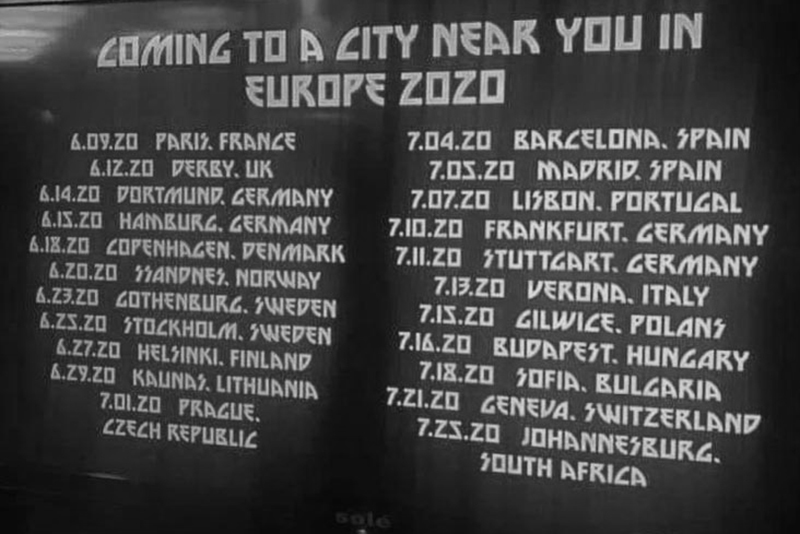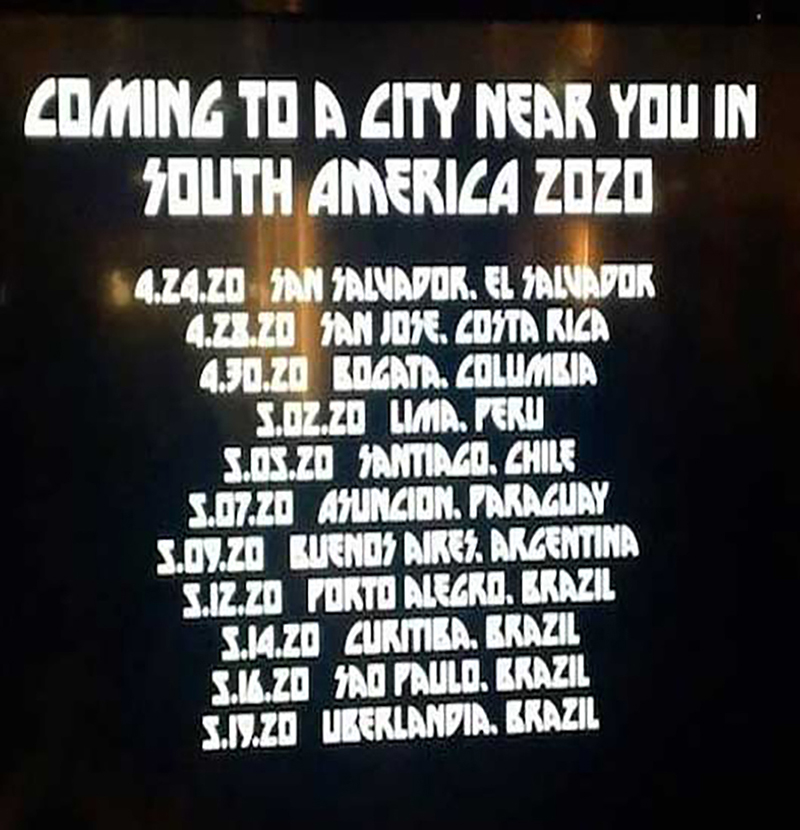 Todo esto fue anunciado hace unas horas en el crucero KISS Cruise. En 2018 KISS tocaron en Madrid, en los festivales Resurrection Fest 2018 (Viveiro, Lugo) y Rock Fest Barcelona 2018, así como en Córdoba el 12 de julio (dentro del Festival de la Guitarra de Córdoba).
La formación actual de KISS está compuesta por los miembros originales Paul Stanley y Gene Simmons, junto con el guitarrista Tommy Thayer (que se incorporó a la banda en 2002) y el batería Eric Singer (en el grupo desde 1991). «Monster» es hasta la fecha el último y vigésimo álbum publicado por KISS en 2012.
KISS fue creado en 1973 por Stanley, Simmons, el batería Peter Criss y el guitarrista Ace Frehley.
Kiss 'End of the Road' 2020: (mes/día)
2/01 – Manchester, NH
2/04 – Allentown, PA
2/05 – Buffalo, NY
2/07 – Charlottesville, VA
2/08 – Greensboro, NC
2/11 – Columbia, SC
2/13 – Lexington, KY
2/15 – Peoria, IL
2/16 – Fort Wayne, IN
2/18 – Springfield, MO
2/19 – Wichita, KS
2/21 – Sioux City, IA
2/22 – Grand Forks, ND
2/24 – St. Paul, MN
2/25 – Lincoln, NE
2/29 – Laughlin, NV
3/02 – Bakersfield, CA
3/04 – Los Angeles, CA
3/06 – Oakland, CA
3/09 – El Paso, TX
3/10 – Lubbock, TX
3/12 – Tulsa, OK
3/14 – Lafayette, LA
3/15 – Biloxi, MS
4/24 – San Salvador, El Salvador
4/28 – San Jose, Costa Rica
4/30 – Bogata, Columbia
5/02 – Lima, Peru
5/05 – Santiago, Chile
5/07 – Asuncion, Paraguay
5/09 – Buenos Aires, Argentina
5/12 – Porto Alegro, Brazil
5/14 – Curitiba, Brazil
5/16 – Sao Paulo, Brazil
5/19 – Uberlandia, Brazil
6/09 – Paris, France
6/12 – Derby, U.K. (Download Festival)
6/14 – Dortmund, Germany
6/15 – Hamburg, Germany
6/18 – Copenhagen, Denmark
6/20 – Sandnes, Norway
6/23 – Gothenburg, Sweden
6/25 – Stockholm, Sweden
6/27 – Helsinki, Finland
6/29 – Kaunas, Lithuania
7/01 – Prague, Czech Republic
7/04 – Barcelona, Spain
7/05 – Madrid, Spain
7/07 – Lisbon, Portugal
7/10 – Frankfurt, Germany
7/11 – Stuttgart, Germany
7/13 – Verona, Italy
7/15 – Gilwice, Poland
7/16 – Budapest, Hungary
7/18 – Sofia, Bulgaria
7/21 – Geneva, Switzerland
7/25 – Johannesburg, South Africa
8/28 – Mansfield, MA
8/29 – Hartford, CT
8/31 – Canandaigua, NY
9/01 – Bangor, ME
9/04 – Atlantic City, NJ
9/05 – Burgettstown, PA
9/08 – Atlanta, GA
9/09 – Raleigh, NC
9/11 – Clarkston, MI
9/13 – Tinley Park, IL
9/14 – Dayton, OH
9/15 – Milwaukee, WI
9/19 – George, WA
9/20 – Ridgefield, WA
9/22 – Boise, ID
9/24 – Salt Lake City, UT
9/26 – San Bernardino, CA
9/27 – Chula Vista, CA
9/29 – Phoenix, AZ
10/01 – Austin. TX
10/03 – Ft. Worth. TX
10/30-11/04: Kiss Kruise X
Kiss 'End of the Road' 2021:
7/17 – New York, NY