Bruce Springsteen y Dropkick Murphys ofrecieron este viernes 29 de mayo el primer concierto en un estadio vacío en Estados Unidos debido a la pandemia. El evento denominado "Streaming Outta Fenway", se organizó para recaudar fondos para el Fondo de Resistencia de Boston, Hábitat para la Humanidad y Alimentar a América.
Si te perdiste el concierto de Dropkick Murphys y Bruce Springsteen desde Boston, el Fenway Park, el estadio de beisbol de los Boston Red Sox completamente vacío, aquí lo tienes.
Bautizado como Streaming Outta Fenway, el grupo ofreció un amplio repertorio de 28 temas, empezando con 'The Boys Are Back' y terminando con 'Until The Next Time'. También incluyeron varias versiones como 'You Can't Put Your Arms Around A Memory' de Johnny Thunders, 'Dirty Water' de The Standells, 'Amazing Grace' y clásicos propios como 'Tessie' o 'Shipping Out to Boston'.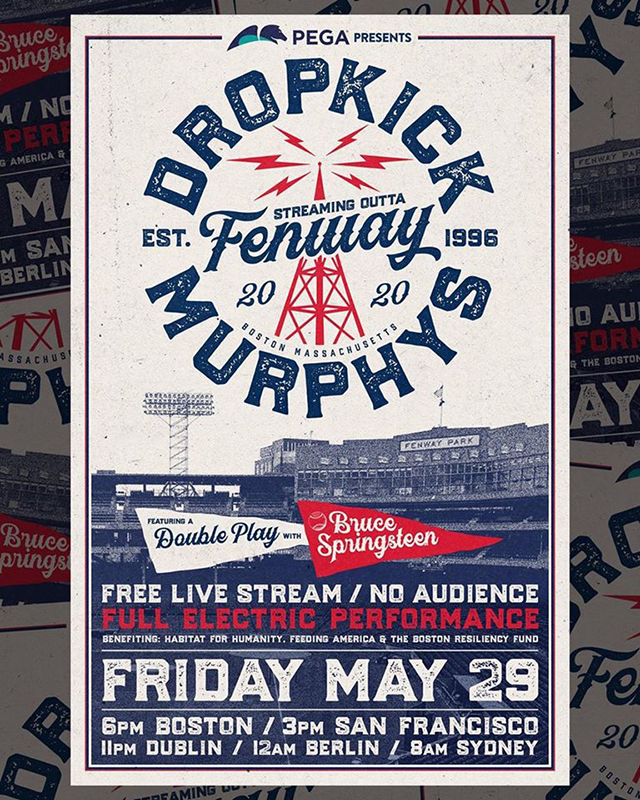 En la parte final, se produjo la conexión a través de las pantallas del estadio con Bruce Springsteen, quien se encontraba en su casa de New Jersey, para interpretar conjuntamente 'Rose Tattoo', su colaboración de 2013, y 'American Land', un tema del Boss que encaja perfectamente con el estilo de la banda.