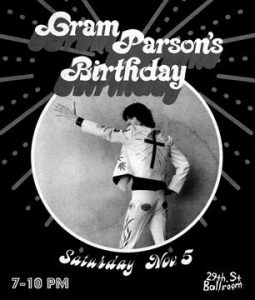 Hoy, 5 de noviembre de 2011, se cumplen 65 años del nacimiento del genio Gram Parsons. La música del Cosmic American continúa en nuestros corazones.
Pionero, genio y referente del country rock, desde Dirty Rock continuamos contigo en esa «ciudad del pecado» ángel caído.
Tributo a uno de los más grandes de la historia de la música en su 65 aniversario de nacimiento, desde los International Submarine Band, The Byrds, Flying Burrito Brothers, Emmylou Harris, sus fiestas con los Stones o en solitario, canciones sucias que te llevarán directamente a la ciudad del pecado de esa América Cósmica.
Puedes escuchar en el siguiente enlace la lista de reproducción fantástica sobre la obra de Gram Parsons en nuestro canal de Spotify.
DIRTY ROCK Gram Parsons 65th Birthday, 5 de noviembre 2011.
Jonny Kaplan «The Awaken Angel» con sus Sin City All Stars en «100 Years» en el Molly Malone's de Los Angeles
Today's marked as 65th anniversary of Gram Parsons' birthday, the Cosmic American continue in our hearts, November 5th of 2011. Gram Parsons, 65th Birthday Anniversary, pioneer, genius and one of the greatest of country rock, from Dirty Rock follow you to «Sin City», Fallen Angel.
Tribute to one of the greastest artists in the world in his 65th Birth Annivesary, from International Submarine Band, The Byrds, Flying Burrito Brothers,Emmylou Harris, Stones's parties or solo, Dirty songs will take you straight to Sin City of that Cosmic America.