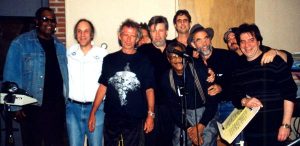 Mick Jagger y Keith Richards pagarán íntegramente el funeral de Hubert Sumlin, según acaba de comunicar su administrador Toni Ann, por expresa petición e insistencia de los Glimmer Twins y que se llevará a cabo en Homewood, Illinois el próximo martes 13 de diciembre. God Bless the Rolling Stones!!
The Rolling Stones' Mick Jagger and Keith Richards will pay for the funeral of blues great Hubert Sumlin. Sumlin's partner Toni Ann has posted, "I just wanted to share with you, Hubert's loving fans, that Mick Jagger and Keith Richards have insisted on picking up the full expenses for Hubert's funeral. God Bless the Rolling Stones". A private service will be held in Homewood, Illinois on December 13. A public service for fans will be held on December 12 at 10am at the Festa Memorial Funeral Home in Totowa, New Jersey. There will also be a public viewing at the funeral home on December 11 between 2 and 4pm and 7 and 9pm.
Keith Richards en «I Love The Life I Live, I Live The Life I Love» de «About Them Shoes»
Keith Richards comentando cuando conoció a Hubert durante la grabación de Bridges to Babylon.