Will Hoge es de ese tipo de músicos con una extraordinaria capacidad para contar historias y una ternura especial para expresarse y contagiar. Según avanzaba su discografía, ha ido ampliando sus canciones desde la habitual temática de amor/desamor de sus inicios hasta volcarse cada vez más en crónicas cotidianas llenas de vidas difíciles, zozobra, sueños y recuerdos, enraizados en la más pura tradición americana.
La presentación del nuevo disco de Will Hoge con Small Town Dreams (2015) publicado el año pasado, más un disco en directo titulado «Will Hoge: Solo & Live – December 2015» que grabó el año pasado durante su gira en diciembre Desperate Times: A Storyteller's Tour que verá la luz en Europa el 1 de marzo y en Estados Unidos el 18 de marzo, se llevará en una gira europea que comienza en España el 1 de marzo en Madrid, pasando por Valencia el 2 de marzo hasta el 15 del mismo mes denominada «Solo & Live«.
Will Hoge es uno de los grandes contadores de historias de los últimos tiempos, tristemente muy poco conocido en España tuvo en sus inicios a Dan Baird de The Georgia Satellites como padrino musical en sus comienzos, a mediados de los años noventa. Magnífico compositor, productor y dueño de un sello discográfico le llegaría su gran reconocimiento en el 2013 con su penúltimo álbum, con una maravilla titulada Never Give In, tras no haberla contado años antes en un terrible accidente con su moto.
Magnífica y fascinante voz de Will Hoge que nos remiten a texturas del mejor Bob Seger o Bruce Springsteen, conveniente dulcificadas y adornadas con un regusto de esencia y profundidad, cuya alma siempre se haya empapada del mejor Rhythm & Blues sureño, Rock and Roll, Country y Folk.
Una auténtica maravilla es su último disco Small Town Dreams, que entró por méritos propios en la lista de los mejores discos internacionales del año 2015. Will Hoge visita España en formato acústico, artista de cristal oscuro que debería brillar de lo que ha hecho hasta la fecha.
Si quieres leer la crónica de un concierto de Will Hoge realizada en Londres el pasado 10 de septiembre, clica en éste párrafo.
Escucha Small Town Dreams de Will Hoge.
Fechas de la gira española de Will Hoge 2016:
1 de marzo en Madrid, Sala El Sol
2 de marzo en Valencia, Loco Club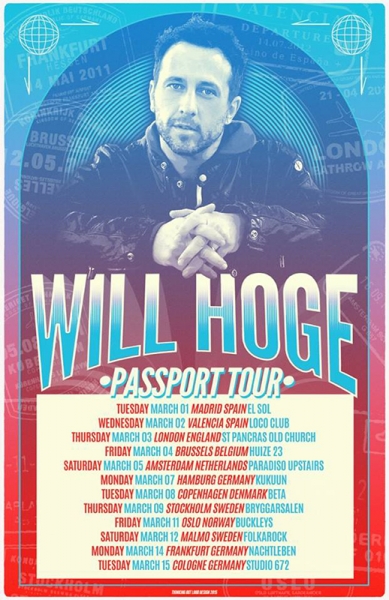 Entrevista a Will Hoge: 
1. Primero que nada, ¡darte la bienvenida Will Hoge a España!, ¿cómo ha gestionado a lo largo de estos años diez discos a sus espaldas y esta nueva gira en España, es la primera?
Toqué en España un concierto hace ocho años. Es fantástico estar de nuevo en vuestro país.
2. ¿Cómo se construyó "Small Town Dreams" , que de alguna manera está inspirado en el lugar donde pasó su infancia en Franklin, Tennessee, durante la década de los setenta y ochentas?, y ¿quién es Ed Tarkington, y por qué su novela lo inspiró para que hiciera un disco?
Escribí aquellas canciones cuando estuve en casa de mi madre durante una semana o algo así. Sentí que esas canciones reflejaban mi vida, mis cambios y todos aquellos que concernían a mi ciudad. Ed Tarkington es un buen amigo y escritor. Nuestros hijos van juntos a la escuela desde que tienen dos años de edad. Recuerdo que me dio una copia de su novela 'Only Love Can Break Your Heart' antes de que la publicase y me pareció fantástica. Ed y el editor del libro me preguntaron si querría acompañar el libro con un single de dos canciones. Fue una magnífica oportunidad para mi y me encantó como esas canciones se presentaron.
3. ¿Qué es lo que más le gusta, componer, escribir, producir o dirigir su propia compañía de discos?
Todo ello es una incesante creatividad.
4. ¿De qué manera le ha influido un accidente que tuvo en el año 2008?
Pues de sobremanera. Aquel accidente lo cambió todo para mi. Puso todo es una perspectiva diferente.
5. ¿Podríais contar a la audiencia en España de dónde procede su aprendizaje y experiencia musical y qué músicos te han inspirado o influenciado a la hora de crear su propio estilo?
Me encanta un montó de estilos musicales. La colección de discos de mi padre fue la mayor influencia que pude tener. Discos de los Beatles, Rolling Stones, Bob Dylan, Buck Owens, Ray Charles, James Brown, the Temptations….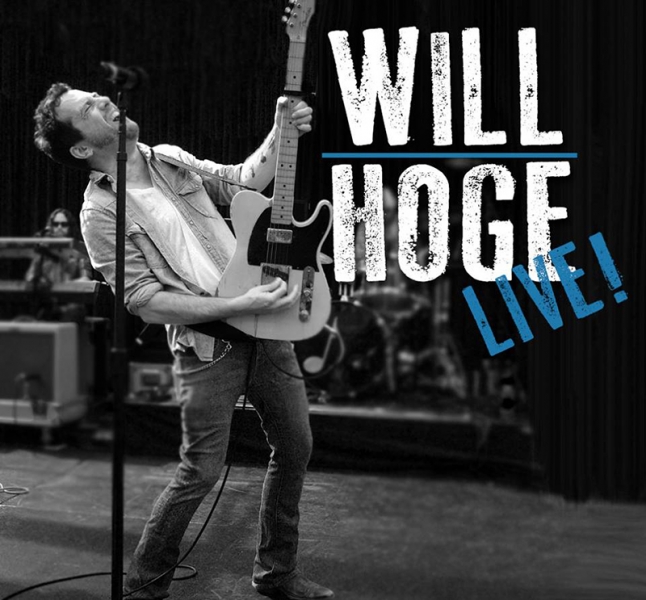 6. ¿Cómo es la escena musical de Nashvillie o Tennessee donde reside y su cultura en cuanto a géneros como Rock, Country, Blues, Americana o música de raíces en estos momentos?
Nashville es LA CIUDAD, la más importante musicalmente hablando del planeta. Todo está ahí. Todos los géneros. Es un lugar muy estimulante a la hora de crear y de vivir en ella.
7.  ¿Qué tipo de música escucháis cuando vais de gira en la furgoneta? 
Lo que solemos escuchar cuando estamos de gira y dentro de la furgoneta es una gran mezcla de cosas.
8.¿Qué sensaciones tiene sobre lo ocurrido en París y sus atentados terroristas, y cómo cree usted que estos problemas podrían ser resueltos?. Residiendo en Estados Unidos, ¿cree que la situación vivida durante el concierto de Eagles of Death Metal podría ocurrir en vuestrosu país?
Con certeza aquello fue una terrible tragedia. ¿Soluciones?. No estoy seguro si hay suficiente espacio para responderte en esta entrevista. Pero resumiendo, educación. Siento como se tiene que empujar más hacia la educación y entendimiento más allá de barreras culturales y financieras como solución a nuestros problemas. Ya ocurrió con Dimebag Daryl, guitarrista de Pantera y Damageplan, cuando fue asesinado durante un concierto en 2004, recibiendo varios disparos. Me viene  a la menta que aquellos no fueron extremistas impulsados per se, pero sigue siendo igualmente una tragedia que asoló nuestra familia musical colectiva.
9. ¿Cual sería la mejor satisfacción que le gustaría llevarse tras sus dos conciertos en España?
Esperanzado de ver a muchísima gente, ya que así podré volver y tocar en más sitios.
10. ¿Hay algo que le decir Will Hoge y que no le hayamos preguntado?, ¿le gustaría enviar un mensaje a los lectores de Dirty Rock para animarlos a ver uno de sus conciertos?
Gracias por tomaros vuestro tiempo. Y espero veros a todos en mis dos conciertos.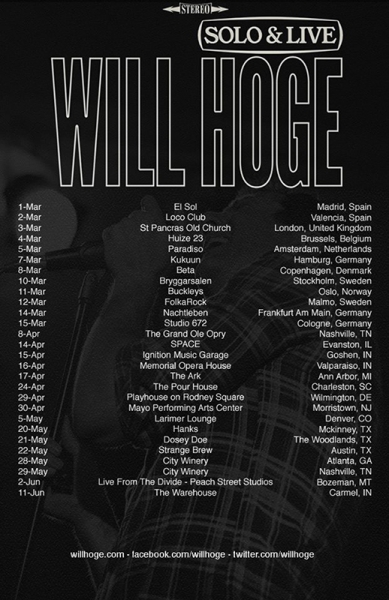 Interview to Will Hoge: 
1. First of all, Welcome to Spain Will Hoge!
How you managed through the years and after tenth studio albums how are you facing your next Spanish tour, is this your first one ?
I played a show there about 8 years ago. It will be great to be back.
2. How did "Small Town Dreams" come together that was inspired heavily by Franklin, Tennessee, where you grew up during the seventies and eighties? Whos's Ed Tarkington, and why this Only Love Can Break Your Heart inspired by him and his novel?
I wrote those songs after being back home at my mom's house for a week or so. I felt like it reflected my life changes and the changes of that small town. Ed is a dear friend and writer. Our kids have gone to school together since they were 2 years old. He gave me an advance copy of his first novel 'Only Love Can Break Your Heart' and when I read it I just thought it was incredible. He and his publisher approached me about writing a couple of songs for a 45 release with the book. It was a cool opportunity for me and I love how the songs turned out.
3. What do you like most: writing, producing, run your record company?
It's constant creativity.
4. How have influided that accident back in 2008 in your music and life style?
Yes. That accident changed everything for me. Put it all in very clear perspective.
5. Could you tell Spanish audience musical background and Who inspires you to do what you do and which musicians that have influenced your sound and approach to creating your own style of music?
I love lots of music. My dad's record collection was my biggest influence growing up. Beatles, Rolling Stones, Bob Dylan, Buck Owens, Ray Charles, James Brown, the Temptations……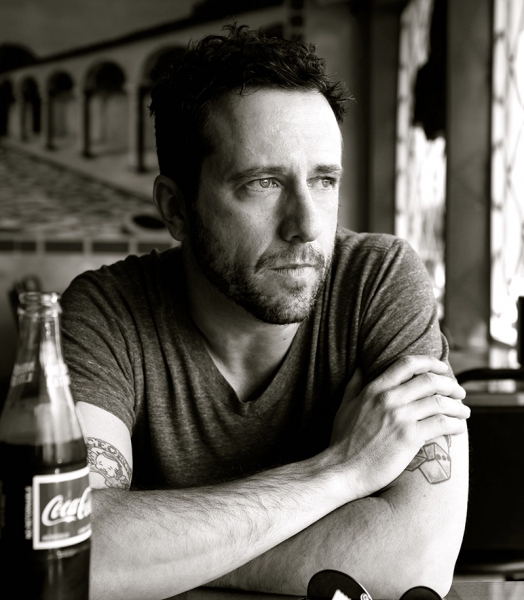 6. How is Nashville or TN musical scene and their culture of Rock and Rock right now and specially talking about Rock and Roll, Blues, Soul, Americana, etc?
Nashville is THE greatest music city on the planet. It's all here. All genres. Very inspiring place to live and create.
7. What kind of music do you listen to while on the road in your van?
What kind of music you guys listen to while on the road in your van It is a huge mix of everything.
8. What are your feelings about what happened in Paris a last year? How do you think these issues can be solved? Living in United States, do you think a situation like one lived at the Eagles of Death Metal concert could have ever happened there?
It's a terrible tragedy for certain. The solution?  I'm not sure there's enough room to try and type that in an email. In short, education. I feel like continuing to push and further real world learning and education across all financial and cultural barriers is a sees to a solution to nearly all of our problems.  It has happened in the US. Dimebag Daryl being killed is a case that comes to mind that was not extremist driven per se but still a tragedy that devastated our collective musical family.
9. What is the best satisfaction you would like to take with you after the shows in Spain?
Hopefully seeing great crowds so I can come back and play there more.
10. Is There anything you want to tell us we won't ask you Will Hoge? and Would you mind send Dirty Rock readers a message and encourage them to see Will Hoge in your upcoming shows in Spain?
I thank you for your time and support. Hope to see y'all next week.