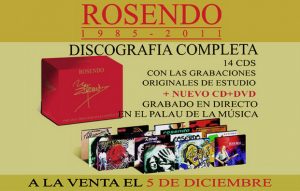 Rosendo lleva 40 años en la carretera defendiendo la esencia y coherencia del rock en español. Incordia, "tira de diccionario", masculino singular, poseedor de la Medalla de Oro de las Bellas Artes, currante y Leño, saca a la venta una caja con 14 de sus álbumes, delimitados en estos 26 años de carrera en solitario: 1985-2011.
El Rory Gallagher con corazón de Neil Young con sus maneras de vivir nos tiene muy "agradecidos"
Entrevista a Rosendo
Rosendo 40 years on the road, protecting the essence and coherence of rock and roll in Spain. His box with 14 albums in almost 30 years in his solo career 1985-2011. The Rory Gallaher with Neil Young's heart.