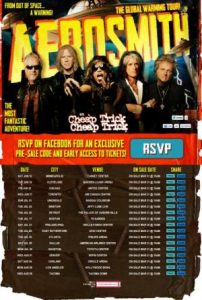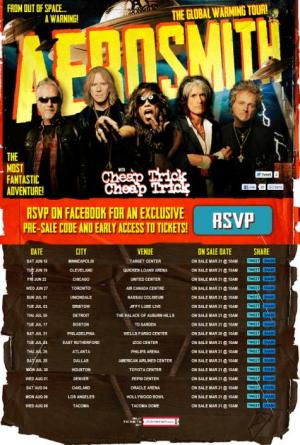 Aerosmith y Cheap Trick acaban de presentar su gira conjunta "The Global Warming Tour" que recorrerá Estados Unidos y Canadá comenzando el 16 de junio en Minneapolis y culminando el 8 de agosto en Tacoma, Washington.
Ambas bandas regresan de su gira por tierras latino americanas y niponas con grandísimo éxito de público y crítica.
Por el momento no se ha anunciado gira europea de ambas formaciones.
Aerosmith lanzará su próximo álbum de estudio a finales de año. Actualmente se encuentran preparando la inclusión del tema "Legendary child" para la banda sonora de "GI Joe: Retaliation".
"Legendary Child" es un tema que se descartó en 1993 del disco "Get a Grip", el disco más vendido de la historia de los bostonianos.
No dejes de leer la crónica del concierto de Cheap Trick en el Azkena Rock Festival de 2011, con fotos, vídeos y todo el festival.
Steve Tyler y Joe Perry en el estudio trabajando en una nueva canción.
Aerosmith have just announced the first leg of «The Global Warming Tour,» which sees America's rock band joined by Cheap Trick for 18 dates, all of which can be found below.
The announcement comes as the band are wrapping up work on their new album, which is expected to be released later this year. The trek kicks off on June 16 in Minneapolis, and will mark the band's return to home soil after hitting only Japan and South America last year.
Aerosmith y su fantástico «Dream On»
Cheap Trick y su maravilloso «Surrender»