Kiss y Mötley Crüe realizarán a partir de julio una gira conjunta denominada THE TOUR que se extenderá hasta septiembre de 2012. El pasado martes 20 de marzo, ambas bandas dieron una rueda de prensa conjunta adelantando detalles de lo que será una de las giras más importantes de este verano.
Como anécdota, recordamos que la banda neoyorkina Kiss visitó la ciudad de Las Vegas el pasado viernes 16 de marzo para inaugurar una capilla para bodas y un mini golf en la ciudad del juego.
Minutos antes de la rueda de prensa en Los Angeles, Mötley Crüe publicó en su web el siguiente vídeo mostrando la clave "The Tour" (La Gira) entre otras pistas.
Con media hora de retraso, a las 21:30 horas de Canarias (01:30 U.S. PT) comenzaba la rueda de prensa con el cómico latino George Lopez haciendo de maestro de ceremonias. Ochos sillas sobre el escenario: a la izquierda Kiss (Paul Stanley, Gene Simmons, Eric Singer y Tommy Thayer) y a la derecha Mötley Crüe (Vince Neil, Nikki Sixx, Mick Mars y Tommy Lee). Es el primer reencuentro de ambas formaciones desde su primera gira conjunta "Creatures of the Night Tour" en 1982.
Más de 80 millones de discos vendidos entre las dos bandas. Paul Stanley comentó "compren la entrada para The Tour porque será como Elvis con amplis Marshall". Mötley saldrá primero en cada uno de los conciertos y cada banda estará entre 90 minutos y dos horas en el escenario, "no habrá teleprompters ni karaokes en sus actuaciones, todo lo que suene provendrá de los músicos en el escenario tocando sus instrumentos" dijo Gene Simmons con vehemencia, algo que también explicó Paul Stanley "no es playback como hacen muchos artistas ahora, es rock'n'roll, cometeremos errores pero es real, es en vivo, es 'blood, sweat and tears'". Kiss presentará su nuevo disco "Monster" en esta gira "The Tour".
Muchísimos fuegos de artificio como viene siendo habitual en ambas bandas, sin desvelar sorpresas pero insistiendo al público que el que asista a sus conciertos recordará toda su vida que estuvo en "The Tour".
Las entradas se pusieron a la venta el 23 de marzo para el público en general y a un precio entre 20 dólares (15 euros) y 200 dólares (150 euros).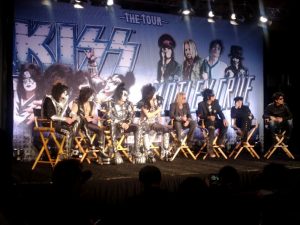 La gira conjunta de Kiss y Mötley Crüe comenzará el próximo 20 de julio en Virginia y terminará el 23 de septiembre en Connecticut, y recorrerá más de cuarenta ciudades en Estados Unidos y Canadá.
Por separado, Mötley Crüe estarán actuando en Europa desde el 5 hasta el 23 de junio, y Kiss tiene una fecha en Europa hasta el momento, en el Sonisphere Festival de Inglaterra, el próximo 6 de julio.
Hasta el momento, no está previsto que "The Tour" aterrice en Europa.
Kiss, después de anunciar "The Tour" con Mötley Crüe, se presentaron en el programa de televisión de la ABC en Los Angeles Jimmy Kimmel Live! ,  que se emite desde un escenario sobre el asfalto entre Hollywood y Highland, justo enfrente del teatro El Capitan Theatre. Esa noche, Kiss tocaron "Detroit Rock City" y "Calling Dr. Love".
You Wanted The Best, You Got The Best!!!
Kiss, tocando "Detroit Rock City"
Kiss, tocando "Calling Dr. Love"
Entrevista a Kiss y Mötley Crüe después de la rueda de prensa.
Kiss inaugurando una capilla para bodas en Las Vegas y un mini-golf.
Rock 'n Roll doesn't get any bigger than this! KISS and MÖTLEY CRÜE… On the same stage… On the same night. This spectacle of spectacles announced today, KISS and MÖTLEY CRÜE are uniting to launch THE TOUR of 2012. The summer's biggest, baddest rock tour will level 40+ cities nationwide starting July 20th. The Live Nation promoted tour will go on sale beginning Friday, March 23rd at Ticketmaster.com and LiveNation.com. Both bands will have fan club pre-sales beginning Wednesday, March 21st at 10am.
Kiss after "The Tour" announcement, jumped up to Jimmy Kimmel Live! to play "Detroit Rock City" and "Calling Dr. Love", no news about their new album "Monster".
Kiss and Mötley Crüe touring together next July til September in one of the major events this Summer.
Besides that Kiss opened a mini golf and a Weddig Chapel in Las Vegas, last Friday March 16th.