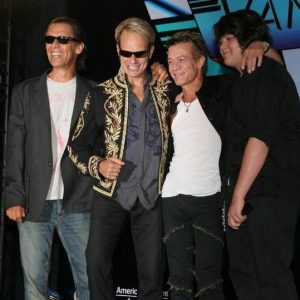 Van Halen obsequian a todos sus fans con «The Downtown Sessions», un DVD con cuatro bonus tracks que se incluye en la edición de lujo de su reciente álbum «A Different Kind of Truth» publicado el pasado 7 de febrero, décimo segundo álbum de los angelinos. Disfrutad de estos maravillosos 17 minutos de auténtico Rock and Roll.
«The Downtown Sessions» DVD Video From Deluxe Edition of «A Different Kind Of Truth» Full 16 minutes!! The deluxe-edition version of VAN HALEN's much-anticipated new album, «A Different Kind Of Truth», which contains a bonus DVD featuring four brand new acoustic-performance videos titled «The Downtown Sessions»
Trailer de la gira de Van Halen 2012
Van Halen estrenan nuevo single y vídeo «Tattoo» de su próximo disco «A Different Kind Of Truth» después de 28 años.
La banda formada por Alex Van Halen, Wolfgang Van Halen, Eddie Van Halen y David Lee Roth, ha revelado el pasado mes de noviembre la portada del álbum en una pantalla gigante en el Time Square de Nueva York.
Hay que decir que «Tatto» parece una versión del «Down in Flames» tema que fue grabado en los 70's y que nunca fue incluido en ningún disco de estudio, si en el directo Van Halen II.
On Tuesday, Van Halen premiered «Tattoo,» the first single from their comeback album with David Lee Roth, A Different Kind of Truth. And almost as soon as they did, longtime fans couldn't help but notice that the song sounded, well, a little familiar.
In fact, the «new» song might be a re-worked version of «Down in Flames,» a track Van Halen played live in the 1970s but never actually put on an album. And listening to the two side by side, you can't help but think those fans are right. From the chords to the chorus, «Tattoo» bears a striking similarity to the old song.