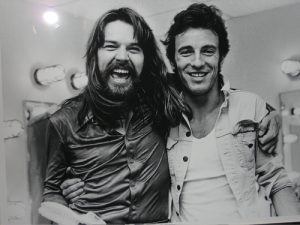 Bob Seger se encuentra en la última fase de composición de lo que será su próximo álbum, que se publica en otoño y lo llevará a una nueva gira por Estados Unidos y esperemos que por Europa.
Bob Seger es otro de los más grandes "el Thunder Road", 50 millones de discos vendidos, poco dado a grandes giras, aunque últimamente se ha animado sobre todo en el 2011,su último disco fue aquel "Face the Promise", editado en 1996.
Junto a Bruce Springsteen y su banda de toda la vida, "The Silver Bullet Band",  ha compuesto grandes himnos para el rock and roll en su Detroit y Alabama obrera y gran amante de la música de raíces.
Por supuesto pertenece a la larga nómima de grandes en el Rock and Roll Hall of Fame desde 2004. Tenéis que verlo alguna vez en la vida.
El pasado 1 de diciembre de 2011, Bob Seger invitaba a su amigo Bruce Springsteen a cantar "Old Time Rock And Roll" en el Madison Square Garden, durante el "Downtown Train Tour 2011" uno de esos momentos que ponen a uno los pelos como escarpias.
Rock and Roll never forgets!!!
Bob Seger and The Silver Bullet Band, cantando "Ramblin' Gamblin' Man" en 1969.
Teaser del Bob Seger Downtown Train Tour 2011.
Bob Seger en el Rock and Roll Hall of Fame, 2004
Bob Seger has announced plans to release a new studio album, and to support that record with a tour."I will write from January 1 through March 31.
I will finish the next record and right now, yes, I will tour with the next record," has announced.
Seger, who has sold more than 50 million albums, with 11 platinum and seven multi-platinum titles, also revealed what convinced him to release a studio album for the first time since 'Face the Promise' in 1996.