Mick Taylor, guitarrista y ex componente de The Rolling Stones y de John Mayall & The Bluesbreakers vuelve a la carretera con una serie de conciertos en Nueva York después de superar algunos problemas de salud, incluso hace unas semanas estuvo grabando con Ronnie Wood nuevo material discográfico.
El magnífico guitarrista apareció ayer 9 de mayo junto a la banda The Roots en el Late Night with Jimmy Fallon interpretando magistralmente  «Can you Hear me knocking» como se puede observar en el vídeo que te mostramos a continuación, ¡¡soberbio Mick Taylor!!
Mick Taylor construyó con The Rolling Stones, los mejores riffs de la historia del Rock and Roll junto a Keith Richards, la propia «Can you Hear me knocking», «Sway», «Brown Sugar», «Honky Tonk Women», «Country Honk», «Live With Me» o «Moonlight Mile» entre otras maravillosas melodías, debido a su magistral técnica guitarrera basada en una magnífica base blusera con toques y variantes del Jazz,  sobre todo del Latin Jazz,  sustentado sobre un imponente slide.
La colaboración de Mick Taylor junto a The Rolling Stones se produce después de la expulsión y fallecimiento de Brian Jones, encontrado en su casa muerto en la piscina de su casa en 1969. El propio John Mayall recomendaba a Jagger y Richards la versatilidad y gran técnica de Mick Taylor, que por entonces pensaba que sólo iba a participar como músico de sesión en la banda, ya que el nombre que más se rumoreaba por aquel entonces era el de Jimmy Page, ex miembro de The Yardbirds y Led Zeppelin.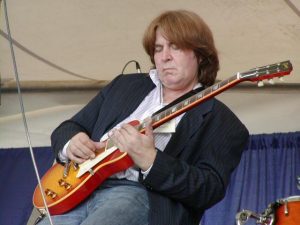 Su colaboración con The Rolling Stones transcurre desde 1969 hasta 1974 con  cinco magistrales discos y obras maestras como Let It Bleed (1969), Sticky Fingers (1971), Exile on Main St. (1972), Goats Head Soup (1973) e It's Only Rock 'n Roll (1974) con un pie más fuera que dentro de la banda debido a sus problemas de adiccion a las drogas.

Mick Taylor debutó en directo con The Rolling Stones con sólo 20 años de edad y tres días después de fallecer Brian Jones ante más de 250 mil personas en el Hyde Park de Londres el 5 de julio de 1969.
Junto a John Mayall & The Bluesbreakers  estuvo desde 1966 hasta 1969, grabando varios álbumes y participando en alguna gira.
Después de abandonar The Rolling Stones, Mick Taylor realizó varios discos en solitario y colaboró en solitario con grandísimos artistas compartiendo escenario y estudios de grabación con Bob Dylan, Ben Waters, Grateful Dead, Jeff Beck, Jack Bruce, Little Feat, Santana, Joan Báez, John Phillips o Ten Years After entre otros muchos.

Mick Taylor está de gira por Nueva York hasta el próximo 14 de mayo en el The Iridium Jazz Club, después de haber actuado junto a su amigo Ronnie Wood el pasado 21 de abril en Atlantic City. Se rumorea que ambos han grabado junos  material para sus próximos discos en solitario.
Mick Taylor junto a su banda ensayando en Nueva York en el The Iridium Jazz Club el pasado 8 de may, el 14 de mayo compartirá escenario con "Guitar World & The Iridium Present».
Cada vez el rumor de que Mick Taylor se una a la gira con The Rolling Stones en el 2013 se hace más grande, desde Dirty Rock estaríamos encantados de que eso sucediera al igual que con Bill Wyman.
Mick Taylor showed up on Late Night with Jimmy Fallon last wednesday May 9th. Taylor will join the evening's guests, including Howard Stern, Brooklyn Decker and Giada De Laurentiis.
Mick Taylor, former guitarist of The Rolling Stones is in New York to perform a week of shows at The Iridium Jazz Club from May 9-14. The final night of the run will mark the launch of "Guitar World & The Iridium Present," a monthly series highlighting the world's best guitarists performing with The Les Paul Trio. Taylor will perform with an all-star band featuring Max Middleon (keyboards), Wilbur Bascomb (bass), Bernard "Pretty" Purdie (drums), and Jon Paris (guitar/vocals). For May 14's Guitar World & The Iridium Present show, Taylor will be joined by Middleton and The Les Paul Trio.
The guitarist is rumored to perform with The Rolling Stones in 2013 as part of their 50th anniversary tour.