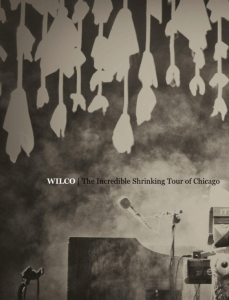 Jeff Tweedy y los suyos Wilco acaban de sacar al mercado un nuevo single «Me Avivé», su interpretación  en castellano del «Dawned on me» de su último disco «The Whole Love» (2011), y un iBook titulado, «The Incredible Shrinking Tour of Chicago».
El iBook rescata los cinco conciertos de Wilco en su ciudad de residencia, Chicago el pasado diciembre de 2011 con multitud de posters, setlists, fotos y dos videos exclusivos, la maravillosa interpretación junto a los grandes Mavis Staples y Nick Lowe en los camerinos con la canción «The Wieght» de los canadienses The Band en el Civic Opera House de Chicago y otra canción de Jeff Tweedy ensayando con «You are not alone».
Wilco interpretan en castellano «Me Avivé» de su canción «Dawned on me», una bella canción de amor en la que esos sentimientos de pasión y ternura juguetean en tu mente y te llegas a dar cuenta de que te has enamorado y lo has entedido, después de haber dejado a tu pareja.
«Me Avivé» según una nota de prensa de Wilco sirve para agradecer a todos sus fans hispano parlantes en todo el mundo, después y especialmente de su gran concierto en el San Miguel Primavera Sound de Barcelona el pasado 31 de mayo y tras su concierto sorpresa en Discos Revolver en la misma ciudad como os contamos en un reciente articulo de Dirty Rock.
«Dawned on Me» recordemos fue publicado en formato vídeo y modo de dibujos animados, cartoon, en el que veíamos a Popoeye y a Wilco embarcados y cantando sobre el amor, los autores de vídeo son King Features y Peach Blossom Media, cuyo director ha sido Darren Romanelli.
Tanto «Me Avivé» como el iBook  «The Incredible Shrinking Tour of Chicago» están disponibles en iTunes.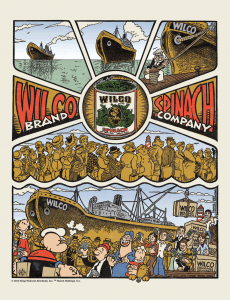 Wilco recorded a Spanish language version of The Whole Love's "Dawned On Me." According to a press release, «it's intended as "a thank-you to Spanish-speaking fans everywhere.»
Also The band's new label dbPm compiled footage, setlists and posters from the tour into a free multimedia iBook called The Incredible Shrinking Tour of Chicago and the videos with Nick Lowe and Mavis Staples singing «The Weight» and Jeff Tweedy solo "You are not alone".