Levon Helm y su garganta maravillosa nos dijo definitivamente adiós el pasado jueves 19 de abril, a los 71 años de edad, mientras estábamos en un concierto con EvilMrSod y Keiko.
El fatal desenlace se producía esa misma noche del jueves, después de que su esposa Sandy y su hija Amy colgaban un mensaje en la web oficial del maestro y genio "Dirt Farmer" Levon Helm informando que Levon Helm estaba "en las última fase de su batalla contra el cáncer. Por favor enviadle vuestras oraciones y cariño mientras atraviesa esta parte de su viaje".
Hace unos meses Levon había cancelado varios conciertos en su propia casa, The Barn, con los maravillosos Midnight Ramble y poco después varios conciertos en su nueva gira por diversas ciudades norteamericanas, incluido en el fastuoso Festival de New Orleans Jazz & Heritage Festival 2012, algo no andaba bien.
Marco Werman le hacía su última entrevista el pasado 9 de marzo, en la que se mostraba muy feliz aunque su garganta denotaba un gran desgaste debido a su tratamiento de radiación.
Además de otra entrevista realizada esa misma semana en la propiedad donde se encuentra su casa y The Barn en Woodstock, Nueva York.
Cuando has leído la autobiografía de Levon Helm "This Wheel's on Fire" te das cuenta que estamos ante uno de los más grandes músicos de la historia, a la altura de Johnny Cash, Neil Young, Bob Dylan o el mismo Willie Nelson, auténticos defensores de la música de raíces norteamericana y de sus músicos.
El mes pasado ganaba su tercer Grammy con "Ramble at the Ryman" mejor álbum Americana, el grandioso "Dirt Farmer" (2007) y el no menos "Electric Dirt" (2009) fueron sus otros dos discos galardonados en los Grammy.
Siempre estuvo rodeado de los mejores, Emmylou Harris y Kris Kristofferson rejuvenecieron su carrera en solitario después estar con The Band, siendo el único miembro no canadiense de la portentosa banda. Además de financiar y pagarle The Barn, el estudio de grabación, casa y museo en Woodstock en Nueva York, su Big Pink particular por el que pasaron innumerables personalidades de la música Hubert Sumlin, Keith Richards, Robert Plant, Alison Krauss, Dr. John, Elvis Costello,The Black Crowes, Scotty Moore, D.J. Fontana, etc ¿quién no recuerda aquel maravilloso disco grabado en su casa "All the King's men" con Keith Richards, Helm y toda la trouppe de Elvis Presley?
Su voz rasposa inconfundible y su manera de tocar la batería y mandolina son señas de identidad de los ritmos sureños, Rhythm and Blues, Bluegrass, Rock and Roll, Country, Gospel y Blues para muchísimas generaciones.
No pretendemos hacer apología de nada, simplemente de que conozcas a uno de los tesoros nacionales e iconos de la música popular, un ídolo para todos nosotros, y del que tuvimos la oportunidad de verlo 3 veces en Estados Unidos, dos de ellas en dos ediciones del Farm Aid, ayudando a granjeros, agricultores y músicos.
Levon Helm nació en 1940, en Arkansas, un estado del sur, lindando con Texas o Louisiana, desde muy joven se interesó por la música comenzando a tocar la guitarra, al poco tiempo iniciaría su carrera junto a la banda rockabilly The Hawks con el gran Ronnie Hawkins, al poco tiempo de unirse se mudan a Canadá en 1959.
En el país vecino reclutan varios músicos locales como el guitarrista Robbie Robertson, el bajista Rick Danko, el pianista Richard Manuel y a los teclados Garth Hudson, embrión de lo que sería The Band, pero antes se denominarían Levon Helm and The Hawks y The Hawks nuevamente.
En 1965 un joven llamado Bob Dylan les pregunta si quieren ser la banda de acompañamiento del genio de Minnesota, a partir de ahí el mito de Bob Dylan se haría muchísimo más grande gracias a The Band y Levon Helm.
Capitol Records apuesta por Levon y The Band y comienzan a sacar las primeras obras maestras, "Music from Big Pink", "The Band" y otros cinco álbumes más hasta su ruptura en 1977.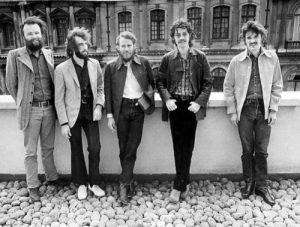 The Last Waltz reflejaría a través de la visión de Martin Scorsese el tremendo legado de The Band en una obra maestra del cine documental en 1977.
A partir de ahí comenzaba la carrera en solitario de Helm, compaginando giras con Ringo Starr and His All Starr Band (Nils Lofgren, Clarence Clemons, Dr. John, Jim Keltner, Billy Preston, Joe Walsh, Rick Danko y los propios Levon Helm y Ringo Starr), además de algunos intentos de unir a The Band, publicando un último disco en 1998, "Jubilation".
Levon Helm con Chris Robinson (The Black Crowes) en la grabación de Cabin Fever en 2009.
Es miembro del Rock and Roll Hall of Fame desde 1994, actor en varios cameos, y es en 1990 se le diagnosticaba por primera vez cáncer de garganta, en el año 2000 comienza su andadura en The Barn con su Midnight Ramble desde su propia dedicado principalmente recaudar fondos para músicos con problemas y dificultades económicas organizando conciertos y grabando discos para muchísimos artistas.
En 2010 se estrenaba un maravilloso documental sobre la vida y obra de Levon Helm llamado "Ain't in It for My Health: A Film About Levon Helm"
Larry Campbell, multiinstrumentista, y compañero de fatigas de Bob Dylan, en mi opinión las mejores giras de los últimos 20 años fueron con Larry Campbell y Charlie Sexton, se une al proyecto de Levon Helm, como músico y productor lo ayuda en su proyecto Midnight Rambles y graban sus tres últimos discos, ganadores de tres premios Grammy, ahí es nada.
Levon Helm, te echamos todos de menos, tu legado continúa, The Wheel's still on Fire.
Imágenes del pasado viernes 27 de abril de 2012 en Woodstock, Nueva York en el que el cielo se fundió con la música y el Dixieland, another goodbye to another good friend.
The Band singer Levon Helm is dead at age 71 after a long battle with cancer, the Times Herald-Record reports. He passed away April 19 at Memorial Sloan-Kettering Cancer Center in New York.
Helm's guitarist and band leader, Larry Campbell, confirmed Helm's death with the Times Herald-Record:
"We lost Levon at 1:30 today surrounded by friends and family and his musicians have visited him … As sad as this was, it was very peaceful."
Helm was diagnosed with throat cancer in 1998. A message posted on his website by his family on April 17 announced he was "in the final stage of his battle with cancer."
The Black Keys and Joh Fogerty singing "The Weight" at Coachella Festival in Indio last Friday 20th.
Helm achieved fame as singer and drummer for the roots rock group, The Band, and he can be heard on their classic tracks, including "The Weight" and "Up on Cripple Creek." He also played Loretta Lynn's father in "Coal Miner's Daughter," among other roles.
In 2007, Helm won a Grammy Award for Best Traditional Folk Album for his studio album, "Dirt Farmer," and his 2010 album, "Electric Dirt," won the first-ever Grammy Award for Best Americana Album. He followed his win in 2011 by taking home the same award for his live album, "Ramble at the Ryman."
Levon Helm Funeral April 27 2012