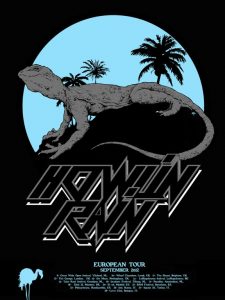 Y otro esperado regreso a España, los maravillosos Howlin Rain de gira por nuestro país hoy en la Sala El Sol en Madrid, mañana en Barcelona BAM Festival y el 22 de septiembre en Hondarribia en la sala Psilocybenea, presenando su fantástico tercer álbum "The Russian Wilds".
Cuando los vimos a los Howlin Rain aquel viernes en una de las mejores ediciones del Azkena Rock Festival en el 2009 con aquella demostración de incendiaria de Rock de la vieja escuela, Blues, Rhythm & Blues, Folk, Country, Psicodelia , Funk y Soul, pensamos para nosotros mismos, ¡ésta es la nuestra, tremenda banda!, a pesar de ser el concierto si no recuerdo mal a las cuatro y pico de la tarde.
Esa conjunción de guitarras, órgano y voces provienen del mejor caldo de cultivo de California,  "Summer of Love", Haight-Ashbury, drogas, Grateful Dead, alucinógenos, Janis Joplin, Jefferson Airplane, The Diggers, el movimiento Hippie, Jimi Hendrix, The Doors o el Flower Power.
Escucha el nuevo disco de Howlin Rain "The Russian Wilds"
Howlin Rain proceden de Oakland, población  muy cercana y al este de San Francisco.
Sus  cinco músicos, Ethan Miller (voz y guitarra), Raj Ojha (bateria y percusión), Cyrus Comiskey (bajo), Joel Robinow (teclados guitarra y voz) e Isaiah Mitchell (guitarra y voz) acaban de fichar por la discográfica de Rick Rubin, American Recordings, con bandas tan variopintas como ZZ Top en su reciente disco "La Futura", lo último de Avett Brothers "The Carpenter", Johnny Cash, Susan Tedeschi, etc. o sea la bomba.
Centrifuga en tu equipo de música Tinariwen,  Foghat , The James Gang, Crosby, Still, Nash & Young, Humble Pie o The Allman Brothers y ahí tienes a Howlin Rain en con sus tres disco, el homónimo "Howlin Rain" (2006), "Magnificent Fiend" (2008) y su reciente "The Russian Wilds" con once magníficas canciones  llenas de colorido, más de una hora paseándote por cualquier calle de San Francisco y oliendo Fillmore West descaradamente, el resultado de esta sorprendente banda infravalorada es su nuevo producto, unas maravillosas granadas comestibles,  cargadas de lo mejor del Blues Rock del momento, Howlin Rain, con el añadido de la duración de sus canciones, que están por encima de la media.

Atentos a lo que voy a decir,  Chris Robinson Brotherhood, están un peldaño por debajo de Howlin Rain.

Howlin Rain comenzaron su gira europea el pasado 8 de septiembre en el Reino Unido, pasando por España con las ters ciudades reseñadas y terminando en Italia el 28 de septiembre.
Howlin Rain touring Europe and Spain presenting their new album "The Russiand Wilds", Madrid, Barcelona and Hondarribia are the dates.