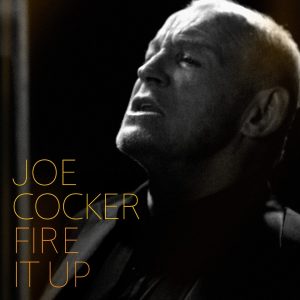 «Fire it up» es el vigésimo tercer y  nuevo trabajo de Joe Cocker que se publicará el 27 de noviembre, disco producido por  Matt Serletic, el mismo de su anterior y popular «Hard Knocks» (2010).
Joe Cocker vuelve con «Fire it Up» a participar en un nuevo disco de composiciones ajenas, trece en total, con su voz característica cascada y áspera, unida a ese pequeño movimiento de brazos, Woodstock y su actuación en aquel festival en el 69, lo precipitó todo, alcohol, borraceras y mucho descontrol.
Joe Cocker de 68 años de edad, es una de las inconfundibles voces que rugen Rock, Soul y Blues, ganador de Grammy's, Globos de Oro y Oscar de Hollywood, es de esos artistas que en directo te hacen ver que detrás de esa voz blanca hay mucho negro detrás.
El de Sheffield, Joe Cocker y las versiones casi siempre han sido lo suyo, «Whith a little help of my friends», su fantástico disco en directo de versiones en «Mad Dogs and Englishmen» (1970), «Unchain My Heart» «You can Leave your Hat On», «You Are So Beautiful», «When The Night Comes», «Up Where We Belong», «I'll Cry Instead» o «Feels like Forever».

Escucha «Fire it Up» de Joe Cocker.
Joe Cocker «Fire it Up» Tracklist
01 – Fire It Up
02 – I'll Be Your Doctor
03 – You Love Me Back
04 – I Come In Peace
05 – You Don't Need A Million Dollars
06 – Eye On The Prize
07 – Younger
08 – You Don't Know What You're Doing To Me
09 – The Letting Go
10 – I'll Walk In The Sunshine Again
11 – Weight Of The World
12 – The Last Road (Bonus Track)
13 – Walk Through the World With Me (Bonus Track)
«Fire it up» new upcoming Joe Cocker album for November 27! New single: