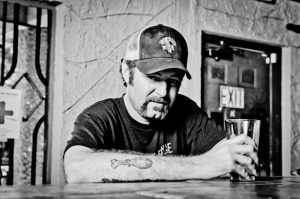 Oh Mercy!
Scott H. Biram se despachó a gusto, repartiendo a diestro y siniestro "Bad Ingredients"  y otras malezas en forma de Blues de la vieja escuela, Country, Hillbilly el paasado 3 de noviembre en Madrid, en la pequeña sala del Fun House Music Bar, aderezándolo todo con especias Bluegrass y Rock Clásico alocado.
Scott H. Biram no necesita nada más que su armónica, su vieja guitarra modelo Gibson ES-125 Hollowbody Archtop Guitar Sunburst de 1959 y su voz atropellada para tirotearnos con sus magníficas canciones como se ha estado viendo en cada de las ciuades europeas y españolas que ha ido actuando desde el pasado 25 de octubre en Austria.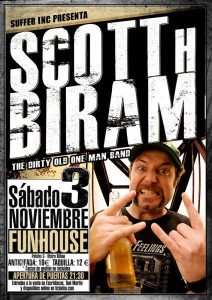 Scott H. Biram en su ruta europea tenía una deuda pendiente con España,  y la descargó en cinco ciudades, Barcelona, Orihuela, Jerez de la Frontera (Serie Z Festival), Madrid y Zaragoza (pendiente de ella).
"Bad Ingredients" es el nuevo y maravilloso disco de Scott H. Biram, editado el pasado 11 de octubre por Bloodshot Records, grabado en su propia casa y masterizado por el legendario Jerry Tubb (Johnny Cash, Willie Nelson o Dwight Yoakam).
Scott H. Biram durante su concierto en Madrid, de nuevo invocó a dos de sus grandes referencias musicales como son Lightnin' Hopkins, Bill Monroe y Doc Watson en forma de versiones Blues y Gospel que se iban clavando en cada unas de las almas de los asistentes una y otra vez con sudor, sangre de pollos, Whiskey, aceite y mucho polvo.
Scott H. Biram demostró en Madrid, que es uno de los artistas más respetados, trabajadores e importantes del género, más de trescientos conciertos al año lo avalan, y eso tras verse implicado en un terrible accidente con su furgoneta en el 2003, en el que estuvo a punto de morir.
Cinco discos autoeditados (KnuckleSandwich Records) desde el año 2000 y cuatro más con su nueva discográfica, la prominente Bloodshot records. Dos años después de su accidente, es recordado por dar un emotivo concierto en el Austin's Continental Club aún con su silla de ruedas y sueros clavados en sus brazos.
La gira europea de Scott H. Biram concluye el próxomo 17 de noviembre en Zurich, Suiza.
"Bad Ingredients" de Scott H. Biram fue elegido por el importante programa de  The Independent Music Awards como el mejor disco de Blues del 2011 en su edición de 2012, compitiendo con Ben Prestage, Left Lane Cruiser, Little Freddie King y Sugar Ray & the Bluetones.
Como Mississippi Fred McDowell, Scott H. Biram "No toca Rock and Roll" (I Do Not Play No Rock 'n' Roll), sólo tiene ingredientes malvados. (Bad Ingredients).
Vídeos e información, Jorge T. Gómez.
I Want my Mojo Back!
Escucha el nuevo disco de Scott H. Biram "Bad Ingredients"