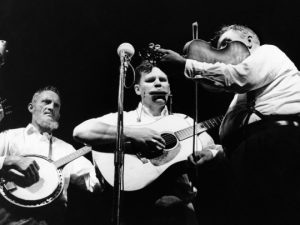 Doc Watson, guitarrista y cantante, una de las figuras más influyentes y pioneros de la música de raíces norteamericana fallecía ayer martes 29 de mayo en Winston-Salem, Carolina del Norte, a los 89 años de edad.
Se quedó ciego a muy temprana edad, pero eso no le impediría ser uno de los artistas más reconocidos con la guitarra acústica tanto con la técnica del fingerpicking y el flatpicking, llegando a ser uno de los músicos más respetados del Roots Music, se le llegó a llamar el "Padre o padrino del flatpicking".
La influencia de Doc Watson es infinita y supo conjuntar magistralmente el Blues, Country, Gospel y el Bluegrass, fue el Johnny Cash del Folk, con Bill Monroe el padre del Bluegrass inspiraron a la gran mayoría de guitarristas en Nashville.
El genio Hendrik Röver (Los Deltonos) rinde tributo a Doc Watson en su despedida, "Twin Tit Breakdown"
Ganador de 7 premios Grammy y uno a toda su carrera, el más reciente en el 2002 titulado "Legacy", la maestría de Arthel "Doc" Watson para tocar la guitarra con la púa, flatpicking, ayudó a popularizarla como un instrumento protagonista en las décadas de 1950 y 1960, cuando todavía se consideraba como un apoyo para la mandolina, el violín o el banjo.
Su forma de tocar la guitarra acústica a una gran velocidad solía intimidar a otros músicos, incluso a su nieto Richard Watson, quien solía presentarse con él. El guitarrista también cantaba y tocaba otros instrumentos, como la armónica, que empezó a tocar a los 5 años.
Con el fingerpicking fue un absoluto genio, la guitarra no rasgueaba los acordes sino que los descomponía, como el ragtime en sus técnicas con el piano.
Watson tuvo su primer contrato para grabar un álbum en 1964 y grabó 60 discos en su carrera. Entre sus múltiples reconocimientos destacan la Medalla Nacional de las Artes en 1997, además de los Grammys obtenidos.
Recientemente hablábamos de Rory Gallagher en uno de nuestros articulos, el magnífico guitarrista y compositor dijo de Doc Watson que sin él, la manera de tocar la guitarra nunca hubiese tenido sentido. Otros como Guy Clark, Clarence White guitarrista de The Birds, Gram Parsons, Jimmi Rodgers, The Carter Family, Merle Travis, Tony Rice y Chet Atkins son algunos ejemplos de la influencia que ha dejado Doc Watson y su técnica.
La primera guitarra que tuvo Doc Watson fue a la edad de 13 años, una Stella, a los 17 años se compraría una Sears Silvertone, a los 30 años, en 1953 compaginaba una Gibson Les Paul electric esas que utilizaban las bandas de Rockabilly del momento con una guitarra acústica Martin D-18. A partir de 1968 comenzaría a utilizar las clásicas Gallagher G-50, de la fábrica J.W. Gallagher Guitars, a éste modelo en particular la llamaría "Ol Hoss". En 1974 Doc Watson tendría su guitarra de firma y serie, la Gallagher Doc Watson signature model.
Vaya año que llevamos Etta James, Levon Helm, Earl Scruggs, Chuck Brown, Don Cornelius, Johnny Otis, etc., descanse en paz Arthel Lane "Doc" Watson.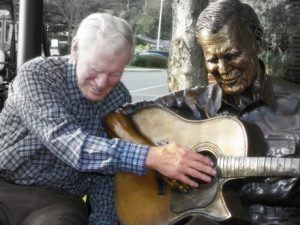 Arthel Lane "Doc" Watson died on Tuesday, May 29 at Wake Forest Baptist Medical Center in Winston-Salem. Watson who was 89, had colon surgery at the hospital last week.
The legendary bluegrass singer and guitar player was th recipient of the National Medal of Arts, a National Heritage Fellowship, and eight Grammy Awards.