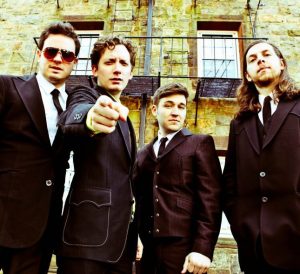 Girls Guns and Glory visitan por primera vez España para presentar su disco «Sweet Nothings» (2011) y su nuevo EP «Milltown Session», disco realizado para recaudar fondos de desplazamiento y alquiler de backline e instrumentos para su gira en Francia y España en noviembre y diciembre, gira que comenzó el pasado 28 de noviembre en Francia y que tendrá en España 6 citas en diciembre, Barcelona, Zaragoza, Madrid, Vigo, Bilbao y Santander.
Girls Guns and Glory llamó nuestra atención hace unos años con su primer y excelente disco Fireworks & Alcohol (2006), donde combinan perfectamente ese sonido Honky Tonk Rock & Roll y Country de vieja escuela, transformándose su cantante y compositor Ward Hayden en Dwight Yoakam y Roy Orbison, y rendidos claramente bajo el influjo de Hank Williams y John Prine.
«Sweet Nothings» (2011) de GGG (Girls Guns and Glory), es la consolidación absoluta de la banda, logrando trasladar a su nuevo disco de estudio toda esa energía de letras y melodías, reflejadas en esas once canciones que hilan historias de almas perdidas, de sueños, de chicas,  de amores, de carreteras que nunca llegan a su destino final, sí de la América árida que tan bien describían sus escritores favoritos.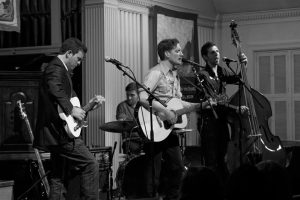 Sarah Borges, colabora con Girls Guns and Glory en uno de los mejores temas de su último disco «Sweet Nothings», llamado «1000 miles». Girls Guns and Glory han encontrado su propia marca e identidad con su nuevo disco, «The Old House», «Sweet Nothings», «Last Night I Dreamed», «Mary Anne», «Root Cellar», son un magnífico puñado de canciones colosales que pasan en un suspiro y que se rumian con deleite y muchísima atención.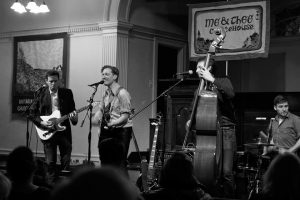 Escucha «Sweet Nothings» de Girls Guns and Glory


Girls Guns and Glory son originarios de Boston, curiosamente ciudad emergente de nuevos talentos de la Americana Music y Roots como Eilen Jewell, Sara Borges o los nominados recientemente a los premios Boston Music Awards 2012,  Kingsley Floo. Recordemos que Massachusetts cuenta con el Lowell Folk Festival o el legendario New England Folk Festival como embriones de ese caldo de cultivo de futuros y grandes nombres del género como lo fueron y son Jonathan Richman o James Taylor.
Girls Guns and Glory son Ward Hayden (voz y guitarra),  Chris Hersch (guitarra eléctrica), Paul Dilley (contrabajo y bajo) y Josh Kiggans (batería) y llevan publicados cuatro discos Fireworks & Alcohol (2006), Pretty Little Wrecking Ball (2007), Inverted Valentine (2008), Sweet Nothings (2011) y ahora su nuevo EP de rarezas y canciones inéditas llamado «Milltown Session» (2011).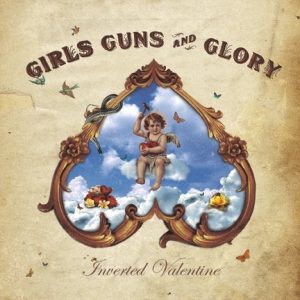 Girls Guns and Glory o GGG como también se les denomina, han sido galardonados con múltiples premios en tan solo seis años de existencia, premios com el Independent Artist of the Year otorgadado por los premios de la música francesa French Country Music Awards, dos veces ganadores del  Roots Act of Year (Boston Phoenix Awards) y Americana Act of the Year (Boston Music Awards),  ambos por ser la mejor banda en directo y ganadores de un famoso concurso radiofónico de bandas para la emisora WBCN Rock 'n' Roll Rumble.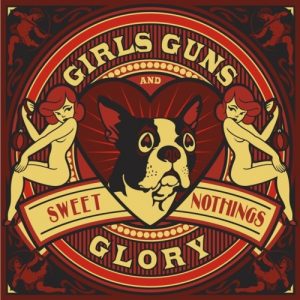 Girls Guns and Glory casi siempre suelen acabar con «You Win Again» de Hank Williams , ¿premonitorio?
Gira española de Girls Guns and Glory:
2 de diciembre de 2012 en Barcelona, Rocksound
3 de diciembre de 2012 en Zaragoza, Rockinhouse
4 de diciembre de 2012 en Madrid, Wurlitzer Ballroom
5 de diciembre de 2012 en Vigo, La Iguana
6 de diciembre de 2012 en Bilbao, Azkena
7 de diciembre de 2012 en Santander, Escenario Santander