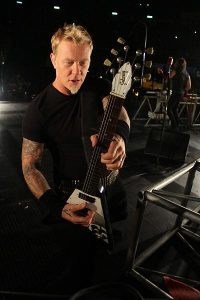 "Quebec Magnetic" será el primer producto de Metallica y su propio sello discográfico se llamará, Blackened Recordings, noticia que saltó a la calle el pasado 30 de noviembre, nombre de la canción  que aparece en su cuarto disco de estudio, "… And Justice for All", con el que editarán todas sus obras de aquí en adelante dejando además las puertas abiertas para publicar a otras bandas
Blackened Recordings, distribuirá las referencias Rhino Entertainment , compañía propiedad de Warner Music en Estados Unido, de todos los discos, vídeos y material delMetallica.
"World Magnetic" de Metallica, sale a la venta el 10 de diciembre en DVD y BluRay que incluirá las dos conciertos en Quebec, un booklet de 16 pàgina, y también una camiseta, cinco fotos exclusivas y un pase de entrada especial para aquellos que compren el Boxset.
"The Day That Never Comes" es el primer adelanto de Metallica para su nuevo DVD "Quebec Magnetic".

Metallica llegó a la ciudad de Quebec, Canadá en el año 2009 con su gira "World Magnetic", para realizar dos noches inolvidables en la provincia canadiense, fueron las dos noches de Halloween del 31 y 1 de noviembre en el pabellon Colisée Pepsi, cuna y hogar del equipo de hockey sobre hielo de los Quebec Remparts.