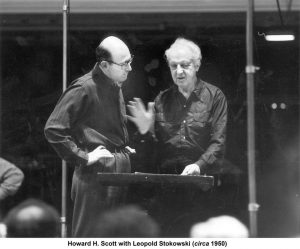 Howard H. Scott, productor e ingeniero es una de las figuras clave dentro de la industria musical,  siendo uno de los creadores del equipo de Columbia Records liderado por Peter Goldmark, de la puesta en funcionamiento del primer Long Play (LP) de 33 r.p.m. de 12 pulgadas,  en sustitución del vinilo de 78 r.p.m. en 1948, y del trasbase de audio de vinilo a CD's a final de los años 70 para Sony y Colubmbia Records, un 18 de junio de 1948.
El pasado 22 de septiembre de 2012, fallecía este genio a los 92 años de edad, descanse en paz, Another goodbye to another good friend.
Howard H. Scott, un jóven ingeniero musical con tan solo 26 años a mediados de los años cuarenta, era fichado por una de las divisiones de Columbia Records que tenía en Los Angeles, para una operación secreta se estaba fraguando, y que consistía en crear un nuevo vinilo de con un mayor número de canciones y duracón, ya que el vinilo del momento, el de 78 r.p.m. , solo tenía una capacidad para casi cinco minutos.
Howard H. Scott y su equipo lograron en 1948 crear un nuevo vinil de 33 r.p.m. que podía contener 22 minutos de audio en cada uno de sus dos lados, la revolución fue tal que primeramente, las grandes orquestas sinfónicas norteamericanas tomaron la inicitiva para realizar dichas grabaciones como fue ese mismo año con la New York Philharmonic con directores tan grandes como Glenn Gould o Isaac Stern entre otros.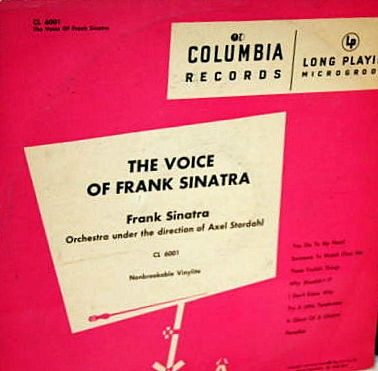 Los primeros discos de de música popular en vinilo de 33 r.p.m. y de 12 pulgadas estaban relacionados con noticias concernientes a la segunda guerra mundial, deportes, o música clásica, y con el logo de Columbia Long Playing Microgroove,  y no fue hasta 1948 la primera vez que aparecian los dos primeros discos de música popular con Frank Sinatra en «The Voice of Frank Sinatra» (CL-6001) con canciones como «You Go To My Head», «Someone To Watch Over Me», «These Foolish Things», «Why Shouldn't I», «I Don't Know Why», «Try A Little Tenderness», «Ghost Of A Chance», y «Paradise»,  o Bing Crosby en otra portada de un LP de 33 r.p.m. y de 16 pulgadas titulado «Crosby Classics» (Columbia CL-6027) y distribuido por Decca Records con canciones como «I've Got the World on a String,» «Thanks,» «Down the Old Ox Road,» «How Deep Is the Ocean,» «My Honey's Lovin' Arms,» «Please,» «Some of These Days» o «Shine.»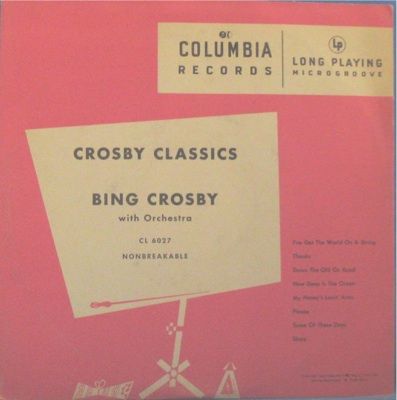 Howard H. Scott recibía un Grammy en 1961 tras dejar Columbia Records durante casi 20 años, ahora en MGM Records, con la producción del disco de música clásica, «Charles Ives' Symphony No. 1, interpretada por la orquesta Chicago Symphony Orchestra.
Howard H. Scott en los años 80, fichaba por Sony on la misión de traspasar toda la música existente de los vinilos a un nuevo formato de audio y digital llamado compact disc, cd, desde 1986 hasta 1993. Howard H. Scott lo tenía bastante claro a la hora de opinar sobre el vinilo versus cd, «They lived from 1948 to 1978, when the CD came in,'' he said. ''Now they're coming back. Small companies are issuing them. I'm still an LP fan». («El LP vivió desde 1948 hasta 1978, cuando apareció el CD, ahora está de vuelta, pequeñas discográfica comienzan a editar vinilos, sigo siendo un aficionado a los vinilos»). (en la foto Howard H Scott aparece a la derecha junto a Aaron Copland).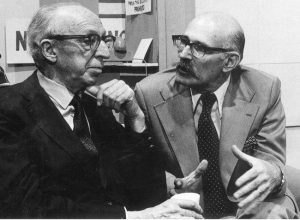 Howard H. Scott, a Developer of the LP, Dies at 92. Howard H. Scott, who was part of the team at Columbia Records that introduced the long-playing vinyl record in 1948 before going on to produce albums with the New York Philharmonic, Glenn Gould, Isaac Stern and many other giants of classical music. (Right at the pic)