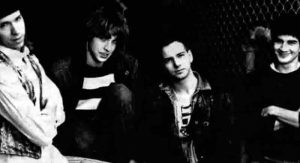 Eddie Vedder perteneció a la banda californiana Bad Radio, justo antes de integrar Pearl Jam, Bad Radio eran una jóven banda de San Diego que comenzó haciendo versiones de Red Hot Chili Peppers desde su fundación en 1986.
Una página web descubre ahora una demo de trece canciones de Eddie Vedder junto a aquella conocida banda local,  Bad Radio, entre 1987 y 1990, se cree que Eddie Vedder le hizo una copia a un viejo amigo del trabajo que vivía cerca de su casa en un apartamento en La Mesa, San Diego.
Eddie Vedder solía grabar las demos con su banda Bad Radio en un viejo almacén de la zona, propiedad de la petrolera San Diego Petroleum Corp. Esta inédita demo de Eddie Vedder sale a la luz, tras sus dos grabaciones oficiales publicadas a finales de los años 80.
Escucha la  inédita demo de Eddie Vedder junto a Bad Radio.
Entre esas canciones que se pueden escuchar, aparecen una versiones primerizas de "Alive" y "Betterman" de Pearl Jam y versiones de Kenny Rogers "Something Inside So Strong",  Sam Cooke "Wonderful World", o Bruce Springsteen "One Step Up", una verdadera joya.
Bad Radio realizón dos demos oficiales The Tower Records Demo, para esa franquicia en varias tiendas de discos en San Diego y otra demo titulada What the Funk.