Damon Harris cantante de Soul y Funk de los míticos The Temptations, falleció el lunes 18 de febrero a los 62 años de edad.
Otis Damon Harris, entró a formar parte de The Temptations cuando se publicó "Solid Rock" en 1972, etapa convulsa de los norteamericanos para el sello Motown, con la publicación del nuevo disco, que supuso la expulsión de los cantantes originales de la banda, como Eddie Kendricks y Paul Williams, sustituidos por Damon Harris y Richard Street.
The Temptations lo formarían entonces Dennis Ewards, Melvin Franklin, Otis Williams, Damon Harris y Richard Street.
Tanto Berry Gordy, Norman Whitfield y Smokey Robinson, querían dar un nuevo golpe en la mesa de Motown, creando un nuevo sonido en el Soul, con el denominado Soul Psicodélico, influenciado por el Funk y música disco, "Take a Look Around" y "Superstar (Remember how You Got Where You are)», fueron los singles estrella del álbum "Solid Rock" (1972)
Damon Harris fue tomando relevancia en The Temptions, llegando a ser cantante tenor en su segundo trabajo "All Directions" (1972) con su tema estrella, "Papa Was a Rollin' Stone", canción escrita para la banda The Undisputed Truth un año antes.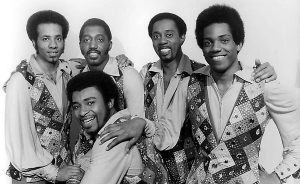 "Papa Was a Rollin' Stone" fue una de las canciones más importantes de The Temptations junto a "My Girl", "Ain'too proud to beg", "Get Ready", «The Way You Do the Things You Do» o "Just my Imagination", el tema y el disco ganó tres premios Grammy.
Damon Harris grabaría tres discos más con The Temptations, "Masterpiece" (1973), "1990" (1973) y "A Song for You" en 1975, regresando a su anterior banda en 1975 con The Young Vandals, reconvertidos ahora como Impact, con los que editó dos álbumes de música disco.
Damon Harris fundó la fundación The Damon Harris Cancer Foundation, cuyo objetivo era concienciar de la importancia de las revisiones periódicas para prevenir el cáncer de próstata.
«Another goodbye to another good friend»