Emmylou Harris y el grandísimo compositor y guitarrista Rodney Crowell, publican «Old Yellow Moon» el próximo 26 de marzo en Estados Unidos y el 4 de marzo en Europa, acompañado también de una gira norteamericana que comienza en marzo y europea entre el 8 de mayo y el 31 del mismo mes, «Hunging Up my Heart» es el primer adelanto del disco.
Emmylou Harris y Rodney Crowell, son grandes amigos, desde que el magnífico compositor y cantante entrase a formar parte de la banda de acompañamiento de Emmylou Harris, la Emmylou and The Hot Band en 1975.
"Old Yellow Moon", supone la primera colaboración como dueto de ambos músicos, un disco que contiene doce canciones, entre versiones y temas de Rodney Crowell, producido por el multipremiado Brian Ahern (Johnny Cash, George Jones, Roy Orbison), y Stuart Duncan, Vince Gill, y Bill Payne aparecen como colaboradores del mismo, también fueron miembros de la The Hot Band de Emmylou Harris.
Escucha «Hanging Up on My Heart»
Emmylou Harris, ganadora de doce premios Grammy, ha publicado más de 25 discos de estudio, pionera junto a Gram Parsons, The Flying Burrito Brotes o de Linda Ronstadt, en fusionar el Country y Rock and Roll desde el sur de California.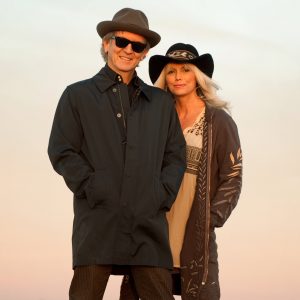 Rodney Crowell por su parte, es otro grandísimo compositor, guitarrista y cantante, fiel seguidor de Guy Clark o Townes Van Zandt,  el año pasado publicó uno de los mejores álbumes del año de Country Rock y Americana music, muy recomendable, KIN: Songs by Mary Karr and Rodney Crowell.
Rodney Crowell, ha editado más de veinte álbumes a lo largo de su carrera, ganador de varios Grammy's de composición, y escrito canciones para los más grandes como Johnny Cash, Norah Jones, Etta James, Bob Seger, Grateful Dead o Rossane Cash, de la que fue su esposa.