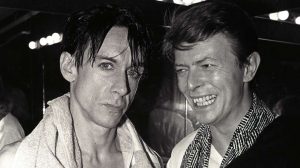 "Lust for Life" es el título de una nueva película que contará la amistad entre David Bowie e Iggy Pop en la década de los años setenta cuando ambos vivían en la Berlín occidental, una época en la que la música experimental despegaba definitivamente.
"Lust for Life", narra los inicios de la trilogía de Berlín de David Bowie con Brian Eno, enormemente influenciados por Kraftwerk, pioneros del Pop electrónico, y la nueva música alemana.
Esa influencia de la nueva música experimental alemana, logró resultados en disco como "The Idiot" (1977), "Lust for Life" (1977) de Iggy Pop, y "Low" de David Bowie, comienzo del Berlin Trilogy con "Heroes" y "Lodger" posteriormente,  el film "Lust for Life" sobre David Bowie e Iggy Pop,  lo dirige Gabriel Range.
Escucha «The Next Day» de David Bowie.
"Lust for Life" será una coproducción alemana-británica y contará con el guionista Robin French de la realización de la trama, basándose en los libros de investigador musical  Paul Trynka, de Iggy Pop y el propio David Bowie en libros como "Starman" y "Open Up and Bleed".
David Bowie e Iggy Pop son noticia, Bowie por la grata noticia del anuncio de un nuevo disco "The Next Day" y su nuevo single "Where are we now?", donde precisamente ofrece imágenes sobre la capital alemana, señalando varios de sus lugares de reunión favoritos de Berlín como KaDeWe y Potsdamer Platz, Iggy Pop & The Stooges por su parte, anuncia nuevo disco «Ready to Die» y gira mundial, como os hemos contado en Dirty Rock, picha en los enlaces para leer esas noticias.