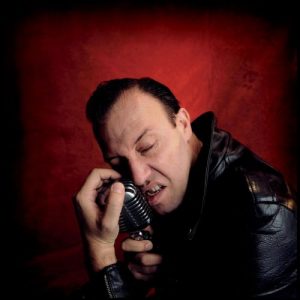 Marcos Sendarrubias, músico de Rock & Roll, Doo Wop y Rockabilly de amplio bagaje musical, desde 1995 como frontman en The Nitemares, The Moon River Trío, Donald Reagans o en su proyecto paralelo The Del Prince, publica su segundo EP titulado "Marcos Sendarrubias", tras su primer EP en marzo de 2012 con "It ain´t nothing but Rock´n´Roll".
El nuevo trabajo de Marcos Sendarrubias está cargado de rockbilly con 4 temas, Daddy´s Little Girl, Mr Delaney, Safe At Home y A Million Miles Away From Home, escritos por el propio Marcos, en el que lo acompañaban Emiliano Cambiasso a la guitarra, Pony Boy Tony al contrabajo y Magüu TDK a la batería, el disco se grabó en directo y analógico en los estudios madrileños de Brazil, editado en Carmela Records.
El anterior trabajo de Marcos Sendarrubias el EP "It ain´t nothing but Rock´n´Roll", contiene cuatro temas, grabados también en los estudios Brazil y editado para Carmela Records.
Marcos Sendarrubias  colabora en el programa de Radio 3, El Sótano, ha escrito artículos musicales para las publicaciones "Sometime Somewhere" y "Nuestros discos favoritos", y su fundamental labor para el libro "Rockin' Spain" de Antonio Alay, que participó como asesor de documentación del libro y de participar como director del proyecto del disco que contiene la publicación.
Marcos Sendarrubias desde sus inicios funda The Prince Five, embrión de su actual proyecto paralelo, The Del Prince, terminando su andadura con los primeros en 2006, en el 2009 forma parte del grupo Tennessee para cantar a capella en diversos eventos, con el grupo grabó un disco y a la espera de publicar otro próximamente.
Próximos conciertos de Marcos Sendarrubias
15 de Marzo – Four Seasons, Castellón
18 de Mayo – Pop, Santa Coloma de Gramanet, Barcelona
3, 4, 5, 6 de Octubre – Rockin Cruise, Barcelona