Smokey Robinson junto a un pequeño grupo de amigos en Detroit, la ciudad del metal en Estados Unidos a finales de los años 60's, fundan una banda llamada Smokey Robinson & The Miracles.
Por otro lado Berry Gordy, un joven compositor de Detroit, que había escrito una canción para Jackie Wilson llamada "Reet Petite", funda una discográfica llamada Tamla Records, un 12 de enero de 1959.
Smokey Robinson y Berry Gordy se conocen al poco tiempo y co escriben "Got a Job", y la historia de América comienza a cambiar con un sonido llamado "Motown", música Soul que crea Berry Gordi junto a Smokey Robinson & The Miracles, con fuerte reminiscencias Gospel, engendrando las bases de nuevo estilo musical en Estados Unidos, al año siguiente primer númer uno en el país de Smokey Robinson con el primer fichaje del sello Motown "Shop Around".
Dos años más tarde Berry Gordy nombraba a Smokey Robinson vicepresidente de Motown Records, comenzaba la imparable carrera de estrellas del Soul y del Rhythm and blues, y una sucesión de estrellas como Stevie Wonder, Commodores, Marvin Gaye, The Supremes, Martha Reeves & The Vandellas, Stevie Wonder, The Temptations, Marvelettes, Lionel Richie, Jackson 5, Diana Ross, Billy Preston, etc.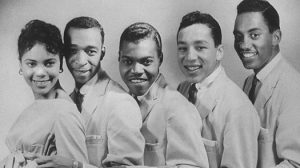 Motown Records fue vendida en 1988 por 61 millones de dólares a MCA (Music Corporation of America), y éstos a Polygram Records en 1993 por 325 millones de dólares, propiedad ahora de Universal Music Group, y recientemente el sello Motown se denomina ahora The Island Def Jam Music Group.
Smokey Robinson es miembro del Rock and Roll Hall of Fame desde 1987, cada 19 de febrero celebra su cumpleaños un genio.