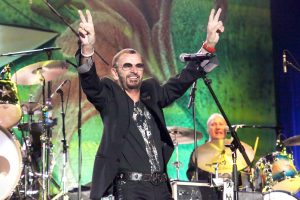 «We were young, it was fun, And we couldn't lose Time were right, overnight, We were headline news, Crazy days and reckless nights, Limosuines and bright spotlights, We were brothers through it all, And your song will play on without you…»
Ringo Starr, batería de los Beatles, publica "Ringo at the Ryman" en DVD el próximo 11 de marzo, concierto que ofreció el pasado 7 de julio de 2012 en el legendario teatro de Nashville, el día de su 72 cumpleaños acompañado de su All-Starr Band, Steve Lukather (Toto), Todd Rundgren, Richard Page (Mr. Mister), Gregg Rolie (Journey o Santana), Gregg Bissonette y Mark Rivera, con las actuaciones estelares de Joe Walsh, Brad Paisley, Vince Gill, Brendan Benson, Kix Brooks y Brendan Benson.
"Ringo at the Ryman" de Ringo Starr está compuesto por 26 canciones, mezclando canciones de los Beatles, propias canciones de la discografía en solitario de Ringo Starr y versiones de clásicos de Carl Perkins o Santana.
Ringo Starr el pasado enero de 2012 publicaba su nuevo disco «Ringo 2012«, con colaboraciones de  Joe Walsh, Kenny Wayne Shepherd, Michael Bradford, Charlie Haden, Amy Keys, Steve Dudas, , Kelly Moneymaker, Richard Page, Van Dyke Parks, Dave Stewart, Bruce Sugar, Benmont Tench, Don Was and Edgar Winter, y acompañado de una gran gira mundial.
Escucha «Ringo 2012»
Si eres fan de Beatles, The Beatles Live! es un nuevo proyecto creado para que todos los fans de The Beatles, aporten memorabilia de la banda desde el año 1963 a 1966 para realizar un futuro documental.
Visita nuestro artículo para conocer más detalles del proyecto y conoce todos los detalles de la visita de Los Beatles en Tenerife de doce días entre abril y mayo de 1963.
«We were young, it was fun, And we couldn't lose Time were right, overnight, We were headline news, Crazy days and reckless nights, Limosuines and bright spotlights, We were brothers through it all, And your song will play on without you…»