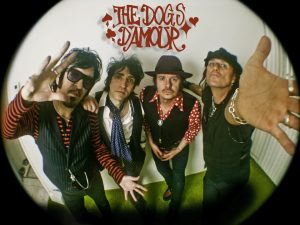 The Dogs D'Amour presentan "Flameboy", "Walk Away", "Livin' On", "Hotel Daze", nuevos temas para celebrar su regreso a los escenarios y disfrutar del 25 aniversario del memorable álbum "In the Dynamite Jet Saloon", Rock & Roll aniquilador y de cantina, cuando surgió en el momento perfecto, cuando el genero estaba realmente apagado y anestesiado con tanto Pop insulso y  descafeinado,  falto de Rock sucio, actitud, y letras realmente tórridas en la década de los años 80.
The Dogs D'Amour, Tyla a la voz, Jo "Dog" Almeida guitarra, Steve James al bajo y Bam a la batería con la formación más estable, confirman una serie de conciertos por el Reino Unido y España para celebrar el 25 aniversario de "In the Dynamite Jet Saloon", y así poder recaudar dinero para un músico amigo de la banda aquejado de cáncer.
Escucha "Flameboy" de The Dogs D'Amour
The Dogs D'Amour actúan en Londres (The Borderline) 22 y 23 de febrero,  Madrid  (Sala Caracol) 24 febrero, Valencia (Wah Wah Club) 25 febrero y Barcelona (Sala Apolo) 26 de febrero, Glasgow (Classsic Grand) 1 marzo, Sheffield (Corporation) 2 marzo y Wolverhampton (Slade Rooms) el 3 de marzo de 2013.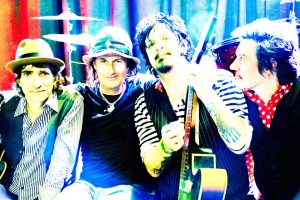 Escucha "Walk Away" y "Flameboy" de The Dogs D'Amour.
Conoce un poco más a los maravillosos  The Dogs D'Amour, que junto a la banda Jacobites con Nikki Sudden, revolucionaron el Rock and Roll en Inglaterra, en nuestro artículo publicado hace unos meses.
The Dogs D'Amour, como los Jacobites, parecían sacados de libros de Charles Dickens, precursores en esa mezcla de Rock Stoniano, Glam, Johnny Thunders, y Punk, fabricando canciones realmente realistas, y sucias, apoyándose en asuntos como las drogas, la muerte, los perdedores, los borrachos o el dolor.

The Dogs D'Amour deseando a todos sus fans un nuevo año en el vídeo e interprentando "Run, Run Rudolph".