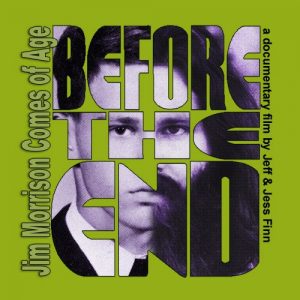 "Before The End: Jim Morrison Comes Of Age" es el nuevo documental sobre el líder de The Doors, Jim Morrison, dirigido por Jeff Finn, que se estrenará el próximo 3 de julio de 2014 y que contará la cara más íntima del genial poeta y cantante con testimonios del hermano del cantante, Andy Morrison, el road manager de The Doors Gareth Blyth, su compañero de habitación en la Universidad de Florida (FSU), Bryan Gates, o su profesor de cine en la universidad de Los Angeles (UCLA).
Trailer de "Before The End. Jim Morrison Comes of Age" que se estrenará el próximo año, el 3 de julio de 2014.
"Before The End: Jim Morrison Comes Of Age", ha contado con la información de más de 300 personas, amigos y conocidos que compartieron su amistad, desde los 12 a los 24 años de edad, el nuevo documental dirigido por Jeff Finn y su productora independiente Z-Machine Productions, se han centrado en la puertad de Jim Morrison y años previos a formar The Doors, cientos de fotografías y filmaciones inéditas.

Además el nuevo documental sobre Jim Morrison cuenta con los testimonios de sus primeras novias "serias" como Tandy Martin y Mary Werbelow, el testimonio de su hermana Anne Morrison-Chewning, Alain Ronay amigo íntimo de Jim durante su estancia en Francia, y una de las últimas personas que lo vió con vida antes de su muerte un 3 de julio de 1971 en París o la influencia de la compañía de teatro experimental en su vida como The Living Theatre, que  perseguía la respuesta inmediata del público y se inspiraba en el anarquismo.
"Before The End: Jim Morrison Comes Of Age", se encuentra en fase de postproducción y no se conoce aún su fecha de estreno del documental del jóven de 27 años, "Hatchling King", (El rey reptil), James Douglas Morrison, que nos dejaba hace 42 años.
El último documental acerca de Jim Morrison se llama "Doorstown", dirigido por Antonio Racciano, filme de 41 minutos sobre la personalidad del genio de The Doors y la ciudad de Los Angeles, que puedes ver en nuestro artículo.